Santa Catarina Beaches and islands
Starting from the southern coastal state of Santa Catarina, with its sub-tropical climate, the capital city of Florianopolis, "Floripa", is an incredibly popular destination for beach lovers with 42 distinct beaches to choose from.
Half of the city is on mainland Brazil and the other half is on Santa Catarina island. There are three bridges which allow you to access the island from the mainland. West of the island you can find beaches with calm waters which are great for families and swimming, whilst on the east-side you can find beaches ideal for surfing such as Joaquina beach which holds international surfing events. Praia Mole and Galheta are popular with younger generations and offer an energetic and lively ambiance while the Bombinhas headland, north of Florianopolis, is the prefered spot for divers.
Santa Catarina's beaches can be enjoyed all year long with the exception of June and July which can have very unstable weather conditions. The steady wind conditions from August to November make it ideal for wind and kite surfing.
Sao Paulo beaches
Sao Paulo is probably not the first place that comes to mind when someone mentions Brazilian beaches. The landlocked city does not sprawl out to the ocean, like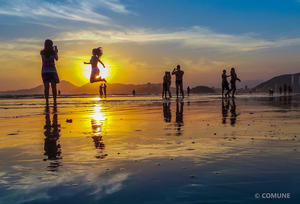 Image: Santos beach by Marcos COMUNE
many other state capitals, such as Rio, Salvador or Recife, however if you head southeast about an hour's drive from the city you will reach the port town of Santos, which is surrounded by mountainous tropical forests and mangrove floodplains, and boasts the largest beach garden in the world (5.3km long). Although great for morning walks, at peak times these beaches can get very crowded and the water is not always clean enough for swimming.
To find less polluted waters you must drive further up the coast until you reach the municipality of Guaruja which offers about two dozen different beaches to choose from with Enseada and Pitangueiras being the most popular where you'll find a high density of sunbathers, food kiosks and vendors. For surfing, Tombo beach is highly recommended.
If you continue north you'll reach what Paulistas (people from Sao Paulo) call 'o Litoral Norte' or the North Shore (note: this is the north shore of the state of Sao Paulo and not to be confused with north coast of Brazil). Since the coastal area here isn't enveloped by huge urban areas, the beaches are cleaner and much less crowded. Beach facilities and resorts are excellent. Barra do Saí, Juqueí, Baleia, Camburi, and Maresias are among the most beautiful beaches on the Litoral Norte.
North of Maresias off the coast of the colonial city, Sao Sebastiao, you'll encounter the appropriately named island of Ilhabela (Beautiful Island). Home to endangered species and lush forests, the island is popular among scuba divers who want to explore any of the several shipwrecks that have occurred there in the past. Baía de Castelhanos beach comes highly recommended if you are willing to take the 22km trek to reach it.
Sao Paulo's beaches are best enjoyed from October to April with late December, January and February being the peak months.
Rio de Janeiro beaches
Rio is universally known for its 'beach culture' and offers a variety of options for beach enthusiasts coming from abroad. The famous Copacabana, Ipanema and Leblon beaches, although incredibly crowded in summers during peak hours, offer a vibrant experience, perfect for people-watching.
Barra da Tijuca and Recreio make for a more tranquil atmosphere and are located in the western outskirts of the city. The waves here are powerful and great for surfing, but be very careful with the strong tides even if you are a strong swimmer.
If you continue west about 170 km you'll end up in the former fishing villages of Buzios which is now a high-end destination for affluent beach lovers. Buzios has almost 20 different beaches to choose from with the secluded beach of Azeda being one of the most beautiful in the country.
Northeast beaches and islands
Ironically, the northeast is known for both the overwhelming level of poverty suffered by its inhabitants and for its unspoiled, clear turquoise waters and white sand beaches. The water is bathtub warm and temperatures stay hot all year long.
The afro-Brazilian state of Bahia alone has over 1,000 km of coastline with much of it being uncharted. It barely makes sense to mention individual beaches here since they are everywhere to be found. The beaches near the town of Trancoso deserve a special mention attracting Brazilian vacationers and foreign tourists alike. A main attraction here is the natural swimming pools formed by reefs when the tides are low.
Further up north, the coastal states Pernambuco and Ceara are also well-established beach destinations where you can find a wide range of options: deserted and wildlife protected beaches, enclosed resorts, small fishing villages, and city beaches. Praia dos Carneiros in Porto de Galinhas and Praia do Forte in Itamaracá deserve a special mention.
Image: Baía do Sancho by Andrei (flickr)
The offshore archipelago of Fernando de Noronha, one of UNESCO's World Heritage Sites, is a short flight from Natal or Recife and is probably one of the most breathtaking beach destinations in the world. Here, many of the beaches are completely deserted and visitors can enjoy top quality diving, snorkeling, surfing and wildlife sighting. If you feel adventurous you should take a hike to Praia do Atalaia or Baía do Sancho which can only be reached via a metal ladder wedged in the crevice of a rock. Bring your own provisions and umbrella as some of these beaches have little or no shaded areas. The number of visitors entering Fernando de Noronha are limited to 700 people per day and they are required to pay an environmental preservation tax.