Whether you are relocate to France short-term or moving indefinitely, banking is an issue to be tackled at some point in the process. When opening a bank account there are numerous variables to consider, and often the language barrier only serves to complicate matters. Understanding the French banking system will give you a head start to deciding which options are best for you and also choosing a provider.
Q: Will I need a French bank account?
A: If your plan is to move to or work in France or if you will be repaying a French mortgage, the answer is yes. For students living in university housing, the answer is really more a matter of personal preference. You can use most ATM, debit, and credit cards issued abroad without any problem. Of course, any payments by check require a French bank account.
Using a French bank account will enable you to be paid by your French employer, facilitate payment for living expenses and bills, and make payments to your mortgage provider. For example, your gas (GDF) and electric (EDF) bills can be paid by simply signing and dating an authorization slip included with the bill called the TIP. This gives the utilities company permission to take the specified amount from your French bank account.
Q: What is involved in opening an account?
A: The process for setting up an account is fairly simple. However, having a bank advisor who speaks English can be a great advantage when it comes to answering your specific questions. Many banks in France are equipped to assist English-speakers. Some French banks even have packages for expatriates that include a checking account, credit card, property insurance, as well as online and telephone banking in English.
As opening a French banking account is a fairly standard process, the required documentation does not vary much from bank to bank. In most cases, French residents will be required to show valid identification, such as a passport or carte de séjour, and proof of address, such as a recent utilities or France Telecom bill in your name. Your account will be opened immediately, but you might be required to provide additional documentation depending on your status.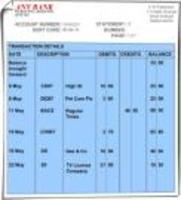 If you are not a resident of France, the bank may also require a recent statement sent to your address from a major credit card company, reputable bank, or utility company.
It is possible to set up a French bank account from abroad before even coming to France. This will require the copies of two forms of identification and two proofs of address that have been certified by your bank, in addition to a letter of recommendation from your home bank.
Following the setup of your French bank account, you will usually receive a welcome letter from the bank. Your checkbook and RIBs ( rélévés d'identité bancaire) will be mailed or available for pick-up, depending on the bank, shortly thereafter.
Q: Can we open a joint account?
A: Yes, joint accounts are available. You have the option of naming the account to M. et MME FRANCE or M. ou MME FRANCE. If the account is named Mr. or Mrs., either party can sign and draw on the account. Choosing an account in the name Mr. and Mrs. Requires the signature of both parties and in the case of death of one party the account will be frozen until the will is proven.
Q: What is an RIB?
A: An RIB is similar in size to a check and lists your bank account information as well as your address. Its function is to present the necessary information for account operations (transfers, payments, debits, etc…) in order to avoid errors.
For example, if you want to pay your bills by direct debit, called prélèvement, the company will ask for your RIB. From the RIB they can collect the necessary information to set up the payment. In most cases a photocopy of the RIB will suffice.
Q: How do bank cards work?
A: In France, credit card use is not as common as in the US and UK. Most purchases are made using debits cards, like the Carte Bleue and MasterCard debit. Purchases made with these cards are debited from your account either immediately or at the end of the month, without the option of making a minimum payment like a credit card. This means that you must have money in the account to cover the purchases you make.
French security for bank cards is excellent. A microchip within the bank card requires the entry of a PIN number for each purchase. The PIN is verified by machine at the point-of-sale in order to authorize the transaction. Your PIN number must never be revealed to anyone, even bank staff.
Q: How are checks different in France?
A: Paying by check is still a very common form of payment in France. When writing a check, proof of identification is often required. Before writing a checks, be sure that there are sufficient funds in the account as bouncing a check is taken very seriously in France. In some cases your name will be added to a blacklist with the Banque de France, resulting in difficulties in acquiring a credit or debit card and checkbook, as well as opening another account elsewhere.
In summary, day-to-day banking in France is not very different from banking in the U.S. Except, of course, everything is in French!
Questions to ask when opening an account
Are there English-speaking advisors?
Do you have online and/or telephone banking in English?
What fees are incurred when using a bank card for ATM withdrawals?
Is there a limit on withdrawals and/or transfers?
What fees are involved for transfers to Euro and non-Euro accounts?
Can I open a bank account with you in my own currency?
When will funds transferred from abroad be available in my French account?
Do you have a package for expatriates moving to France?
When will I receive a checkbook and a bank card?
Can I set-up direct debits and standing orders from my French account?
How can I get in touch with you?
How quickly can I get a loan?
For savings accounts, what rate of interest is paid and how often?
How do I write a French check?
Your first attempts at writing a check may be a bit confusing since the format, not to mention the language, is unfamiliar. Fill in your checks as described below and you'll have no problems.
Payez contre ce chèque non endossable – write out the monetary amount in words, then write the amount in numbers in the box with the euro sign.
à (under the amount) – write to whom the check is being made
à (before le) – write the name of the town in which the check is being written
le: write the date (ex: 17 mai 2006)
Signature: Lastly, don't forget to sign the check in the empty space under the location and date.
Banks in France
--------------------------------------------------------------------------------------
By Kari Masson, a freelance writer for travel, cross-cultural, and expatriate-focused publications. More than 50 of her articles have appeared in North America, Europe, and Africa. If you are looking to add dynamic creativity to your publication, contact Kari at
www.jkmassonprint.blogspot.com