The most common suggestion to make in this kind of article is to have the most typical cultural experience, but what if you want to see the things that aren't so well-known but are still beautiful and enriching for the backpackers and globetrotters among you? Thankfully, Paris is full of them, and we have compiled our own guide to suggest the best activities, whilst at the same time allowing readers to keep their options open.
The main attractions you have probably already heard of are The Eiffel Tower, The Louvre Museum (Musée du Louvre), L'Arc de Triomphe, Notre Dâme Cathedral, the Moulin Rouge, Basilica of the Sacré Coeur, the Opéra and Disneyland Paris.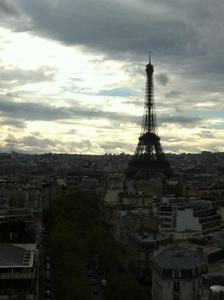 Whilst the vast majority of you may well want to integrate as many of these as possible into your trip, there are numerous alternative options that should also be considered.
For instance, would you have thought twice about going to the Institut du Monde Arabe and discovering the rooftop café which boasts fabulous views down the Seine, or hiking up the summit of Parc des Buttes-Chaumont to picnic in the sunshine whilst enjoying a beautiful panoramic view of the city?
Probably not, so here are some other suggestions you may not have heard of, along with those you'd be silly not to follow up.
As you are most probably already aware, a great way to start the day in Paris is with a freshly made croissant from a bakery. Although they're available in every bakery in Paris, the recommended place to get one of these is at the hugely popular Moisan. After that, why not stroll through the beautiful 17th century Place des Vosges to the Marais which is full of culture, bars, restaurants and museums.
Montmartre and surroundings
Paris, as you may or may not know, is divided into 20 arrondissements (districts). However, there are also different 'villages' within the city. Probably the most distinctive is the village of Montmartre, home to both the Moulin Rouge and the Basilique of the Sacré Coeur, which stands at the former highest point of the city. These two, as mentioned above, are two of the most popular sights, but it is the pleasantness of the surrounding area which we urge you not to miss.
Behind the Sacré Coeur, in particular, there is a pretty square called Place du Tertre where there is a diverse selection of artists either displaying their paintings for sale or drawing caricatures of tourists. Have a wander around the square admiring the art, or prenez un café and absorb the atmosphere.
Museums and art galleries
The most famous museum in Paris is unmistakably the Louvre, but exploring this comprehensive spectacle in full requires at least a full day. So if you just don't have the time but are desperate to get in a bit of art viewing, there are plenty of other alternatives to choose from, depending on your taste.
First of all, there is Musée d'Orsay which exhibits an incredible collection of works by the likes of Monet & Van Gogh and is housed in a former railway station. Then there is Musée de l'Orangérie, displaying a 360 degree depiction of Monet's flower garden at Giverny among impressionist and post-impressionist paintings by Picasso, Renoir and others. The Centre Georges Pompidou of modern art is another worthwhile possibility, and Les Invalides displays weapons and armour from the Middle Ages.
A bite to eat
After all that walking, you'll deserve a break, so enjoy a drink in one of the historic cafés where such legends as Salvador Dalí, Ernest Hemingway and even Benjamin Franklin used to spend their time (Les Deux Magots, Le Select and Le Procope).
A great way to see the sights as you navigate the city without having to take the metro is by Vélib , the bike-hire scheme. Rent a bike for an hour or so, circling various areas in the city via the cycle paths and alongside the river.
You'll want to stop to eat something nice at some point too, right? Based on research and personal experience having lived in La Ville-Lumière for a short period, an example of a fantastically innovative-yet-French restaurant with delicious food which is worth the price is Hugo, located on Rue Papillon near Poissonière metro.
Tasty and affordable alternatives are La Balançoire near the Moulin Rouge, and the quiet little Italian restaurant Il Piccolo Rifugio tucked away in the vicinity of the Sacré Coeur. These places may sound like they'd be heavily populated or touristy due to their location, but in truth they are all unobvious and truly fabulous finds.
Bars and clubs
For many visitors, the next step of the trip involves drinking; one, two, or maybe more, the choice is yours.
A particularly cool bar is Le Comptoir Général, located by the canal near République metro. Its style gives it a distinctive flavour, fashioning a run-down warehouse look and decorated with memorabilia and cultural props from the French overseas departments of Africa and the Caribbean. The bar contains several rooms for different purposes; you can grab a cocktail and chill out in the main bar area on a sofa, take it outside in the rainforest-themed smoking area, or accompany it with some food from the canteen. In addition, short films are shown in a separate room via a projector and and there is a thrift shop upstairs. Everything a hipster, traveler or open-minded expat could wish for.
Alternative options for nouvelle vague followers include the Quartier Latin (full of 60s/70s, non-mainstream films & classics), jazz clubs in the Châtelet area and grungy-hip bars around Oberkampf-Ménilmontant.
The more conventional areas with thriving nightlife are the Bastille area (rue de Lappe, rue de la Roquette, rue du Faubourg Saint-Antoine etc.), Rue Mouffetard, and The Marais. Each contain bars to fulfil the drinking, musical and social needs of any socialite.
Finally, fans of punk rock are recommended to head to Bagnolet, whilst Port de Tolbiac is where you should go for electronic music.
Shopping and souvenirs
To top off their period abroad, many globetrotters like to bring something home with them to keep as a memorable reminder of their incredible trip - whether it's a model of one of the many monuments, or an item of clothing from a retailer in the city. There are numerous places to shop in Paris, especially when it comes to fashion, but we've gathered a few recommendations for you.
Arguably the most famous road in Paris, the Champs-Elysées, hosts incredibly famous and up-market stores and brands. However, whilst the avenue is very appealing to the conventional tourist's eye, you should look out for Avenue Montaigne, where you can find brands such as Chanel and Dior, if you wish to splash out the cash in the area.
Saint Germain des Près contains all the major brands as it's a French Bourgeois area and is becoming increasingly appealing to visitors and residents. In addition, Montmartre is a hub of vintage shops for those with a tight budget, and finally the shopping centres at La Défense and Les Halles are filled with shops of many kinds. Traditional souvenirs such as mini Eiffel Towers, Paris St. Germain football shirts and berets are available in souvenir shops all over the city.
We've made the suggestions, now it's up to you to explore what the City of Lights has to offer!