Jobs in Munich, Berlin, Hamburg and Frankfurt
English-speaking jobs in Germany
JobsinHubs launched the first website of its kind listing job opportunities in Germany with English as the main working language.
JobsinHubs now has websites listing jobs in 4 major cities in Germany: Munich, Berlin, Hamburg and Frankfurt.
At JobsinHubs you can get direct access to lots of opportunities for English-speaking job positions. Although the sites are mainly focused on jobs in Munich, Berlin, Hamburg and Frankfurt, they also cover some jobs outside the cities. You can see featured jobs from employers specifically targetting expatriates and browse open positions by category.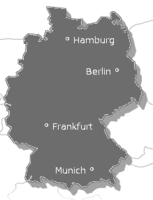 These sites also offer a set of tools and collaborative features to help you in your job search: for example you can research the company advertising the position and connect into some common social networks to see if you have any contacts who might know someone at the company.
Click the following links to search for jobs in Germany now!