Helping expats move
Professional removals across 95 countries
Changing houses is anything but easy - having to relocate is a daunting task for many expats. Don't worry. Wherever you are going AGS's experts are on hand to help you set up for your new adventure. They're the obvious choice for a stress-free move.
Glass, art, personal or precious items; the things you decide to bring with you are very important. Be sure they are handled with extreme care using AGS's extra-safe packaging materials. Once your belongings arrive, AGS takes care of the unpackaging as well as the setting up process, so things are arranged exactly as you imagine they'd be.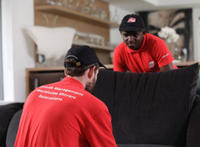 For over 40 years, AGS has developed teams of certified professional movers. To give you peace of mind, they ensure your belongings are protected and guarantee a punctual delivery. If you are moving countries, they take care of all the paperwork at customs. All details are covered to help you make your move a smooth one.
Relocating often means unexpected costs. As one of the largest removal companies worldwide, AGS promises competitive shipping deals, so you always get great value for money and manage to make savings.