The reasonably compact size of the the historic centre means all of its amazing sites are relatively easy to explore on foot, or as the locals prefer; bike. This laidback city is very family friendly and has a great deal on offer to please all ages.
Tour the city
According to the Copenhagenize Index , Utrecht is the 3rd most cycle friendly city in the world. Its vast numbers of cycle paths and great mentality towards cyclists makes riding a bike a fun and easy option for the whole family. It's a popular choice amongst both tourists and locals alike, and provides a great way to zip around the city to all of the great things Utrecht has to offer.
However, cycling isn't limited to just the roads here. There's also an aquatic option in the form of the canal bike, also known as a pedalo. They are a fun means to explore the extensive canals of city, and with the help of the free guide book included in the rental price, you can check out some great sites while you're at it. With longer opening hours on sunny days and covers available in case of rain, canal biking is an all-weather activity. It costs €8 per person per hour, along with a €20 refundable deposit. More information and mooring locations etc. can be found here .
Photo credit: Dominik Morbitzer / Foter / CC BY-NC-SA
It's great to focus evening and night exploration of the city around the Trajectum Lumen . This trail illuminates some of the city's finest sites and currently includes twenty locations varying from streets, buildings, canals and bridges. At each spot of the tour, amazing glowing installations designed by leading artists show the sites in an amazing new light. You can either follow the tour with an official guide, or do it yourself by downloading the map from the website.
Museums
Few people know it, but one of the world's most famous bunnies comes from Utrecht. Miffy, the children's picture book star enjoyed by millions since 1955, is in fact the brainchild of Utrecht resident Dick Bruna. The city hosts an impressive museum to celebrate Miffy and her creator, which includes over 7,000 works including posters, book covers and other creations of Bruna, as well as more interactive exhibitions. It is located within the Centraal Museum in the city centre.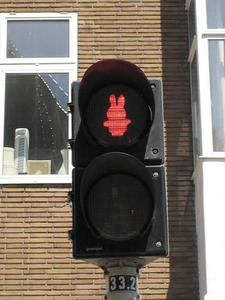 Photo credit: Edwinek / Foter / CC BY-NC-ND
The best place for both adults and children to get a real hands on experience in Utrecht is at the University Museum. Not only does it include a collection of curiosities demonstrating wonders of nature and science, but also a Youth Lab where kids are able to conduct their own experiments. Interesting highlights include a comfortable bed of nails and metal that can float. Entry is €8 for adults and €4.50 for kids up to 18, there is also a family ticket for €17 which pays for 2 adults and 2 children.
Other sights
The botanical gardens of the Utrecht University are open everyday from March until November. They play host to over 6,000 plant species from all over the world, some of which are even extinct in the wild. As well as being a great place to explore and enjoy natural surroundings, you can see the impressive Hoofdijk Fort, which was built in 1879 as part of the defensive New Dutch Waterline.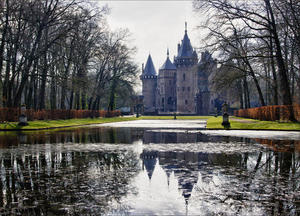 Photo credit: Bert Kaufmann / Foter / CC BY-SA
Located just outside of Utrecht, Castle de Haar is the largest castle in the Netherlands and has an incredible fairytale-esque beauty to it. It's full of impressive turrets, towers, drawbridges and canals, and throughout the year plays host to an array of different events. A great family event is the Elf Fantasy Fair, which brings amazing costumes and displays, and even life-size troll statues to the castle. There are also special children's tours offered throughout august.
Getting to and from Utrecht
Its central location within the Netherlands means getting to and from Utrecht is easy from a variety of domestic and international locations. The main train station, Utrecht Centraal, offers many domestic services as well as direct journeys to destinations as far flung as Moscow.
The main bus station is located next to the train station, with international buses departing from the west side and national journeys going from the east.
Utrecht itself has no airport, but a direct train runs to and from Amsterdam airport at all hours. It costs €8 each way and takes around half an hour. They run every 15 minutes throughout the day and hourly at night.