Krakow is one of the two major cities in Poland and in fact used to be the capital before it was moved to Warsaw. Krakow has seen some of history's greatest tragedies played out on her land, while some of the greatest art, literature, theatre, music and food is also rooted here. This is a land of legend, romance, tragedy and victories.
Krakow is a first class city that welcomes tourists and new inhabitants with open arms. Travellers that are fortunate enough to explore this historically monumental land will quickly realize they are in a world quite unlike their own. That goes double for the English and (by association) other native English speakers.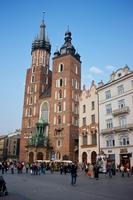 Visit the beautiful Basilica of St Mary in Krakow
If you are considering a move to Krakow, or any other city in Poland, and you are a Brit (or American, Canadian, Australian, etc), you must take a moment to prepare yourself for, in short, the Polish people. Those of the Polish culture will not argue with what I'm about to tell you: The Polish have seen the most awful travellers the world has to offer. However, they do give you the benefit of the doubt. I never once had a less than amicable exchange with anybody in Krakow, but the stories they tell about English and American tourists are simply terrible. After you've been there long enough, you'll see the type and have to hold yourself back from screaming at them.
If you want to give your country a good name and not annoy the locals, try to stay away from the following:
English people seem to treat Poland as North American travellers treat Las Vegas – a place to party hard and make asses of themselves. It is true that the Polish are certainly able and happy to hold their liquor but they are not particularly fond of social disorder or just being a jerk.
The days of civil oppression are not far from the minds of each Polish person. They are not comfortable around people such as Americans and English who don't seem to be afraid of anyone. To see people walk about their own land in an overtly confident manner, as if they own the place, rubs Poles the wrong way. If you're going to be here for a while, you owe it to the people of Poland to brush up on your Polish. Not many of the older generation speak English and you shouldn't be moving to a country if you're not willing to learn its language.
Before You Travel
Poland has been a member of the European Union for some time but does not use the Euro as many foreigners might assume. Their currency is called the Złoty . Be sure to check an online currency converter in the months before travelling to ensure you get the most competitive rate and bring enough money for your adventure!
Study up on some of the customs of the Poles. Their culture is European but it is certainly not 'Western European' as is reflected in the reserved and privacy-worshipping Polish people. The Poles, like the Russians, do not like to impress themselves on other people. They feel this is arrogant and extroverted, which is considered an ugly trait in the Polish/Slavic opinion. True, these characteristics may be fading with the younger generations, but it is very much something that will be passed down for generations to some extent.
Check the weather. Poland's summers are not all that warm and their winters are colder than you might think. The location of the Baltic Sea brings in bitterly cold air that Poles believe to be of a 'youth preserving' nature. Granted, it might not be as strong in Krakow as it is in Gdansk, but still...
Sites Not to be Missed
Krakow has a lot to offer by way of sights and entertainment, so much so that I can't include it all in the list below. Still, I thought these would be a great means of getting you out there to try some of the coolest things the city has to offer.
Historical Landmarks
Państwowe Muzeum Auschwitz-Birkenau – Though this is a land covered in tears and the blood of the massacred, seeing Auschwitz is life affirming.
Krakow Salt Mines – This is a labyrinth of underground tunnels and secret worlds that has been tended to for over 900 years. The tunnels are the result of hundreds of years of mining and exploration. It is literally an underground world. Here you can see "The Last Supper" carved into the wall of a salt carved chapel 135 metres underground.
Cloth Hall – If you love to shop, or if you don't, you simply must see the world's oldest shopping mall. Over 700 years old, Cloth Hall is still a favorite among shoppers and tourists.
Food
U Babci Maliny . Kuchnia staropolska – One of the finest restaurants in Krakow, featuring the best of Polish cuisine and one of the most interesting interiors ever seen.
Piwnica pod Złotą Pipą – Pub and restaurant, this hot spot is truly a place frozen in time and is both warm and inviting.
Glonojad Vegetarian Bar – Yep, Poland has vegetarians too and this is a local favorite that also has a fantastic cocktail menu.
Drinks
Wódka. Cafe-bar – As in 'VODKA'. You simply can't go to Poland without sampling their most popular export. Vodka in Poland is, in my opinion, the best in the world (not that I've been everywhere in the world).
Pauza – It's almost as if you've suddenly found yourself in the middle of some Polish obscure art film when you walk in this bar. It is truly a show of art, obscure art, that is. Both terribly cool and wonderfully unpretentious (as is the Polish way).
Carpe Diem. Klub – Dance, drink and be merry while you 'seize the day' of your holiday.
Your trip to Krakow will be filled with life changing memories and lessons on a very special, quiet and mysterious European treasure. Whether you're here for the week or to stay, you owe it to yourself to give all this stuff a shot!
This article has been submitted by Geoff Gerard