Some of them learn Spanish in school but have never spoken it again, while others have a low level and "survive" with simple phrases and words like "Buenos dias" (Good day), "Gracias", or "Una cerveza" (One beer)...
Nonetheless, picking up and starting over in a new city- where you don't have your family, friends or acquaintances- is hard.
Before you do anything, ask yourself two things: Am I an open and sociable person? Can I speak enough Spanish to at least put myself out there? Soon enough, you will realize that the Spanish character is very attainable, happy and direct.
Follow our tips to start creating your network of professional contacts.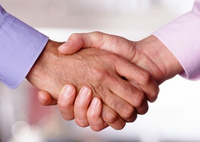 1. Look for professional events or conferences that might be interesting to you. This will allow you to get in contact with Spanish people and begin to network here.
2. Be selective - you can't be in everywhere at once.
3. Prepare yourself before you show up - have a mini-presentation about yourself ready - it should be about what you have to offer and what you're looking for. The more you practice your debut, the better it will come out when the time comes.
4. Don't take people's business cards without a definite objective. The most important thing to do when you meet someone is to try and remember names and faces. Think of an anecdote that they might have told you during the conversation.
5. Take advantage of coffee breaks during the events and conferences you attend so that you can continue getting to know people.
6. Read publications, search the internet and be attentive to the news. It's important to know all the latest current events because they will help you break the ice and chat with someone.
7. Listen, listen and listen to everyone that you have the chance to meet at these events, conferences, parties, etc.
8. Help out others. Networking is based on generosity.
9. Don't forget to smile and leave your shyness home.
10. Remember that you have to practice Spanish, even though English is the business language.
11. Try to find similarities between your country and ours. It will give you pointers, but don't try to create comparisons because it could begin an altercation.
12. Always do a follow-up within 48 hours with the people you have met. It's important to send an email to stay in contact and to avoid disappearing without further communication.
13. Visit the consulate or the embassy of your country. You will certainly be able to get valuable information about companies that are established in Spain or that have connections with Spain, a base of information, a contact in the Chamber of Commerce, etc.
14. Organize a get together. This will allow you to maintain contact with the people who are in your network.
15. Don't forget that networking also has an online aspect. Contacts can also be created through professional networks such as LinkedIn . Navigate and investigate online to see if any of your contacts can introduce you to other newcomers that live in Spain.
16. Get familiar with an expert in the programs of Dual Career . Its services will be very valuable to learn how to position yourself in a market that you don't yet know. Its also useful for learning the peculiarities of the Spanish employment market, how business is done in our country, and how and why the selection processes are distinct here.
Above all... Enjoy the good things that Spain has to offer you!
Marta Díaz Barrera
Managing Director of Impulsando y Entrenando tu Talento
www.entrenandotutalento.com
Escrito por Marta Diaz Barrera