Línea Directa
Spanish car insurance for expats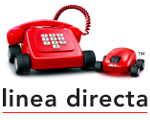 Enjoy the open roads of Spain knowing you're safe in the hands of the country's leading direct car insurer.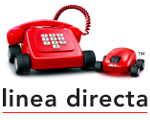 Keeping you on the road
If your car is being repaired, has been written-off or has been stolen, Línea Directa will provide you with a courtesy car to keep you going.

Roadside assistance
If you find yourself stuck, no matter time nor day, you can rely on:
Emergency, on-the-spot breakdown support
A replaced tire in the event of a puncture or emergency fuel tank if you run out
Your car brought back to Spain if you break down in Spain, France, Portugal, Andorra or Gibraltar
Traffic fine management
If you receive any unfair fines, Línea Directa will appeal them for you. What's more, if you max out the points on your license, the cost of the road safety awareness refresher course will be covered for you, up to €500.
Linea Directa has a customer support team specially for Expats. They are happy to answer all your questions or call you back wherever you are.
Find a tailor made car insurance for expats.