Switzerland is known worldwide for its high-quality and varied education system. Regardless of specialisation, students there can find a world-class institution to fit their needs. The safety and quality of life in Switzerland, its cultural and linguistic diversity as well as its location right in the center of Europe have made the country attractive to those wishing to study in an international environment.
The country is also extremely attractive to those who want to study hospitality or tourism management. In fact, at any time more than 5000 students from all over the world are studying at one of the numerous hotel management schools in Switzerland. A number of executives in the global hospitality industry are graduates of Swiss hotel schools. For over one hundred years, Switzerland has been famous for its excellence in hotel management education. A typical feature of Swiss hotel management schools is the combination of theory and practice, whereby emphasis is placed on the personal development of each student.

Some of the reasons to study hotel management in Switzerland include:
Management Education in Switzerland has been Ranked 1st in the world for 2009.
Switzerland has been ranked the Safest Country in the World for 2009.
What are the benefits of an MBA Program?
Increased business knowledge: Students gain in-depth knowledge about business management and all aspects related to it, like business strategies and concepts and core competencies in finance, human resources, business communications and management.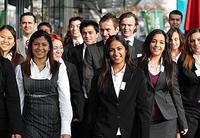 Leadership abilities: An MBA degree involves rigorous training, presentations, reports, assignments, and group projects all of which give students the ability to handle real life business situations. This training helps to set students apart from those without such expertise and really helps to sharpen their skills so they can become leaders in their chosen field.
Transformation, Professional & Personal Development: During their undergraduate education, students are exposed primarily to a theoretical curriculum, which in some instances can leave them without practical knowledge. The MBA program focuses on professional competencies that demand personal effort and participation, and is an ideal preparation for what is expected from graduates when they join the industry.
Core competencies in hospitality and tourism management: Students learn all about the main functions of the various the departments in various businesses; specifically finance, human resources, communications and operational departments like rooms division, food and beverage, maintenance and plant, events management, tourism development and management and health and wellness trends and other businesses.
Networking: The business networks that students create during their education can be one of the most important and valuable aspects that an MBA education can provide. MBA graduates will join a great alumni network made up of graduates working in prestigious positions all around the world.
Earn money and gain work experience
Internships forms an important part of the study program in a number of schools, as they provide an opportunity to gain work experience during the early stages of the career. Generally, the first internship will be in a junior position, where students can practice the skills that they learned in the first six months in business school. In Switzerland according to the Swiss law, during your study you can work six months per year and earn a minimum of CHF 2,115 per month before taxes (around 2500 USD).
Accreditation
Before choosing a University or Business school in Switzerland, you should always look at their accreditation. Reputable schools are accredited by the following bodies:

Northwest Commission on Colleges and Universities (NWCCU)
Association to Advance Collegiate Schools of Business (AACSB)

European Quality Improvement System (EQUIS)

The International Assembly for Collegiate Business Education (IACBE)
Accreditation Council for Business Schools and Programs (ACBSP)
Council for Higher Education Accreditation (CHEA)

Association of MBAs (AMBA)

Foundation for International Business Administration Accreditation (FIBAA)
---------------------------------------------------
Prepared by Habib Al Souleiman, E-Marketing Manager at BHMS Business school http://www.bhms.ch . BHMS is a member of the Bénédict Switzerland group of schools, founded in 1972. Bénédict School is one of Switzerland's largest private educational organizations and is educating each year more than 15,000 full- and part time students.