Switzerland Guide - Free PDF Download
The Insider's Guide to Living and Working in Switzerland

You've decided to move to Switzerland - "Grüezi!". What's next? Get your personal copy of the Insider's Guide to Switzerland. This guide is packed with tips on everything you need to have a smooth start in Switzerland.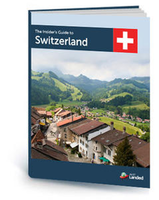 This practical guide takes you step-by-step through the relocation process. Written by experienced expatriates, the Insider's Guide is packed with tips and information covering Swiss bureaucracy, housing, education, healthcare, language the Swiss etiquette and much more.
Get your Free Guide now
To get the Insider's Guide to Switzerland fill in your details below.
Download here:
Thank you! The guide has opened in a new window.