ShipMyCar
Leading UK specialist in car shipping
If you want to move a car to or from the UK, ShipMyCar will give you an instant quote and ensure a painless end-to-end service to reunite you with your car. They will also deal with all of the details: transport, insurance, registration and more.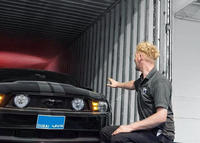 Real experience means great service
For over 10 years, ShipMyCar has been involved in shipping some of the most expensive and rare automobiles across the world. Working for the motorsport industry, film and TV industries, classic car events, as well as private individuals means they have built up solid process and a highly qualified team to make sure each customer's car goes from A to B with the minimum of hassle and as economically as possible.
Moving a car to the UK
There are a number of administrative and technical steps you need to go through to import a car to the UK: import duties, additional tax, vehicle inspections, vehicle registration, and - in some cases - modifications to comply with UK law. What you need to do depends on the vehicle; ShipMyCar make it simple by offering a complete door-to-door service. They can also organise shipping from the UK.
Sound expensive?
ShipMyCar moves many cars and their highly developed technical systems help to keep prices down; they even have a tracker so customers can see where their car is (on both land and sea!).
What sets them apart is their online pricing system for quotes; you can get an instant free quote just by entering the shipment details and the make and model of the car.