Prince Edward Island, Canada
Discover Prince Edward Island
A beautiful island located on the east coast of Canada.
Agriculture is a major industry on PEI and much of its population continue to live in rural communities. The unusual red soil seems to be well suited to growing potatoes. Its potatoes and potato products are exported worldwide notably under the brands: McCain and Cavendish Farms. That red soil must be very fertile because everywhere you go on the Island you see beautiful gardens.
Another major industry is the various fisheries. It has a significant lobster fishery, and its Malpeque/Caraquet oysters and blue mussels are widely regarded for their quality. If you want some oyster recipes try this link. Lobsters are plentiful enough here in the Maritimes that the McDonalds' offer yummy "McLobster" sandwiches in the summer months. I'll bet Ronald McDonald thought he died and went to heaven! They are so popular here that apparently some New England McDonalds thought it was a good idea and now also offer them. If you want a recipe so you can clone them at home try this link.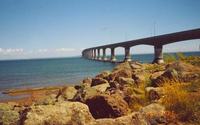 Tourism in recent years is growing. The Confederation Bridge, linking the Island to the mainland, was completed a few years ago. It makes the Island more accessible than ever. The bridge, seen above in the title graphic, is the world's longest bridge spanning waters that become iced over in winter. At 12.9 kilometers long it is an incredible engineering feat, especially impressive when you consider the heavy loads put on it by ice flows. You can still get to PEI by car ferry. Many visitors plan their visits so they can experience both the ferry and the bridge.
Many people know PEI from the novels of Lucy Maud Montgomery and her most famous character "Anne of Green Gables". The author developed the character through a series of novels. Anne Shirley, that character, is a freckle-faced orphan who is so appealing because, although she is a child, she sees the world with an infectious enthusiasm that the adults around her cannot subdue. She has more girl-power than the Spice Girls ever dreamed about. Lucy Maud Montgomery's work has been translated into 15 languages, made into at least eight films, two television mini-series, a musical, and inspired a television series. It has become a phenomenon in PEI. Each year hundreds of thousands of people visit the childhood home of the author. Many come to the Island expressly for that purpose and they buy a lot of "Anne" merchandise - supporting a significant craft industry.
The lifestyle of Islanders is comfortable. Visitors find it very seductive. The landscape is consistently scenic. There are more golf courses per capita than anywhere else in the world. The five-star-rated Links at Crowbush Cove was recently named by Golf Digest to its North American top ten list! The Island also has some of North America's most pristine beaches. Furthermore, the Island has great weather: the best way to describe it is that it's moderate. Not too hot in the summer, not too cold in the winter, not too humid, and plenty of days full of sunshine.
In conclusion I hope you'll visit PEI someday. If you already have, I hope you'll visit again soon.
By George Jordan
Expert in real estate on Prince Edward Island, Canada
Tel: +1 902-962-2050