Leisure Life
How to spend your leisure time in Dubai
Dubai has become a 'Mecca' for tourism, having built an infrastructure to match anywhere else in the world . . . although don't be fooled into thinking Dubai is just like the West, but with an exotic twist.
The city is a rich-man's playground and a great place to come if you already have oodles of money and love a patriarchal society.
There are numerous things to do during your leisure time, from simply going to the beach and swimming in the warm waters of the Persian Gulf, to real-snow skiing in the Middle East's only real-snow ski centre.
For party lovers, you can 'arrive in style' in a hired stretch limo and get drunk every night in a different upmarket venue and not see the same place twice during the entire year, either sober or wearing beer goggles. You can pay more than Dhs20 for a glass of wine in an upmarket wine bar, while elsewhere, you can overindulge in an 'all you can eat and drink' restaurant for Dhs65.
Hip city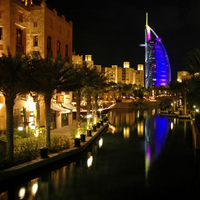 At the end of 2005, Dubai was regarded by many as the most happening place on the planet. Indeed, a report on FoxNew.com deemed Dubai as the 'Hippest City on Earth' and the most fashionable holiday destination for the rich and famous.
For those after a taste of the luxury lifestyle, and gaudy, uncouth opulence, Dubai offers it all. It is a superb place for entertainment and leisure, especially for the holidaymaker during the cooler winter months. It offers the same opulence for the Dubai resident too, especially for those lucky enough to enjoy a two-day weekend.
On Fridays, you can often see residents relaxing on grassed areas; sometimes in the middle of roundabouts, totally oblivious to the traffic speeding past. 'Jumeirah Janes' – the lucky ladies who lunch – can be spied at Gerrard's or Magrudy's Centre over late-morning tea or luncheon, while their husbands earn enough money to pay off Third-World debt (there are nearly 60,000 millionaires in the UAE).
However, according to the Happy Planet Index, an evaluation of human well-being and environmental impact, which "addresses the relative success or failure of countries in supporting good life for their citizens, while respecting the environmental resource limits upon which our lives depend," the quality of life experienced by the UAE's residents should be cause for concern, as it came a paltry 154th out of 178 countries.
Pets
Mahatma Gandhi once said: "The greatness of a nation and its moral progress can be judged by the way its animals are treated."
Unfortunately for the UAE, dogs and cats are generally unpopular among most of the country's population, even though the saluki, the Arabian desert dog, is a traditional creature alongside the camel, Arabian horse and falcon. Many are taught that dogs are impure and that black dogs are particularly evil, which is perhaps why, on occasion, children throw cans at owners and their dogs during walks.
Dubai is not geared for dogs and, in fact, can seem to work against canines and their owners: long working hours, hot weather, negative attitudes and limited, safe places to let your favourite hound off the lead for a good run all conspire against you; in fact, unleashing a dog in a public place is illegal, although as with many of Dubai's laws, enforcement rarely (but fortunately in this case) seems to happen.
Cruelty to animals is forbidden in Islamic Shariah and UAE laws. The UAE Penal Code states that any person who maliciously and intentionally kills any animal, tortures, torments, deprives it of necessary sustenance, drink or food, or cruelly beats it shall receive a prison term of up to one year, a fine of Dhs10,000, or both.
Dogs and cats must be vaccinated and registered with Dubai Municipality every year, and wear an identification tag or, in the case of cats, have the tip of one of their ears lopped off. Otherwise if found wandering the streets, they'll be regarded as strays.
Twitching
Twitchers can enjoy the birds at the Ra's al-Khor wildlife sanctuary, located at the head of the Creek and adjacent to the Al Khail Road, especially during the migration in autumn and spring. There are three hides set up for visitors, and bird life includes flamingos, storks, egrets, sand pipers, eagles, harriers, ospreys and oystercatchers among many others. This fragile eco-system, with its mangrove wetlands, abuts both Dubai Business Bay and The Lagoons currently under construction.
Ra's al-Khor sanctuary could possibly be accredited as an internationally recognised and protected wetland by the Ramsar Convention, a treaty signed in 1971 to conserve marshlands. In addition, Dubai Municipality intends to spend Dhs10 million on the construction of a visitor centre at Ra's al-Khor, to showcase the country's biodiversity and environment. The centre is expected to be ready by the end of 2007.
Parks
Dubai boasts a plethora of parks and gardens, enclaves of greenery at the foothills of high-rise edifices. However, you should note that dogs are banned from these public areas.
One of the most established and favoured by Dubai's residents is Safa Park, which opened in 1975 and is located between Sheikh Zayed Road and Al Wasl Road. Some 64 hectares of grassed areas, trees and shrubbery provide open areas for football and secluded spots for contemplation. There's a waterfall, a lake with boats for hire, and play areas for the kids.
One of Dubai's newest parks is technology themed Za'abeel Park, opened at the end of 2005. With the high rises of Sheikh Zayed Road as a backdrop, its 47.5 hectares encompass a cricket ground, mega bowl, amphitheatre, exhibition centres, boating facilities, a restaurant, BBQ area and mini-golf. The 96-hectare Creekside Park, as its name suggests, sits alongside the Creek for some 2.5 kilometres. It boasts an amphitheatre, cable cars, a mini 18-hole golf course, restaurants and botanical gardens; and the 124-hectare Mushrif Park, located inland near Dubai's suburb of Mirdif, is an oasis among sand dunes. It contains play areas for the kids, separate swimming pools for men and women, and lakes. One of its unique features is the International Garden Area, which features miniature buildings from around the world.
Dune and wadi bashing
A favourite and time-honoured weekend pastime for residents as part of a day or overnight camping trip, a drive into the desert or mountains for dune or wadi bashing (a wadi is a river bed that, for most of the year, is dry) is something the majority of new residents are keen to try.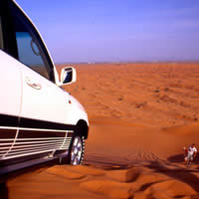 With cars and fuel far cheaper in Dubai than elsewhere, many expatriates can afford to buy big 4x4s, which has the added benefit of allowing their owners to sample dune and wadi bashing throughout the UAE's varied terrain. If you haven't got a 4x4, or don't want to risk damaging your own, you can book yourself on an organised off-road trip or desert safari. Many desert safaris also include an evening barbecue in bedu tents in the middle of the desert, camel rides and, sometimes, sand skiing.
However, if you want to use your own 4x4 to drive in the desert, make sure there are at least two cars in your party so that when (not if) you get stuck the other vehicle can pull you to safety. Carry a mobile phone with you (although sometimes you'll be out of range), enough water, sun protection, shovels and other off-roading paraphernalia, and a GPS if you have one.
Another popular sand activity is careering across the dunes in buggies, especially at the 'Big Red' sand dune on the way to Dubai's inland enclave of Hatta, where buggies can be hired by the hour.
A slow, careful drive through the wadis will reveal mountains, gorges, rocks, a multitude of plant and animal life, and an occasional rock pool and waterfall. Organised wadi-bashing trips are available and are great fun but, along with dune bashing, are not very environmentally friendly.
Sport
Traditional Arab sport includes dhow racing, falconry and camel racing. Dhow racing pitted one tribe against another, while falcons were used to catch prey such as houbara and curlew to supplement a paltry diet of dates, milk and bread, with protein-rich meat. Camel racing was born from the paramount sheikh's need to test the speed and endurance of a camel he wanted to purchase, using men from his retinue as jockeys to race against each another.
The government has been quick to appreciate the lure of Western sport too, for both participants and observers alike, and it has, during the past few years, introduced more and more events to its sporting calendar. From small acorns, these events have flourished into oaks, and now attract the world's top sportsmen and women, and their fans, to Dubai. International events include the Dubai Desert Classic, part of golf's European Tour; the Dubai Open Tennis Championships, which draw interest from the top international players, including Roger Federer, Rafael Nadal, Lindsay Davenport and Justine Henin, who have all won the championship in recent years; Dubai Rugby 7s and, of course, the 'richest horse race in the world', the US$6 million Dubai World Cup, usually won by mounts owned by the Maktoum brothers and part of a calendar of horse races taking place at the Nad al-Sheba racecourse.
However, because the UAE is an Islamic state, gambling is haram: forbidden. Instead, there's what's known as a 'pick six', or 'pick seven' depending on the number of races at a particular meet, whereby, before the first race starts, race goers select who they think will win each race, submit their nominations on the form provided and, at the end of the meet, winners receive cash prizes
. . . all without betting any of their own money.
Other popular professional sporting activities include powerboat racing and kite surfing.
Various clubs dotted throughout Dubai cater to amateurs interested in a plethora of sport, including golf, tennis, flying, go-karting, rugby, cricket, archery, football, netball and softball. And the clear, warm waters around Dubai lend themselves to the pursuit of watersports of all shapes and sizes, including snorkelling and diving, water skiing, kitesurfing, sailing and deep-sea fishing, with marlin, hammour and barracuda on the list of potential catches.
Indoor sport is also well catered for, and includes squash, rock-climbing, ice-skating and real-snow skiing; a real boon, especially during the summer months when it's too hot to go outside.
Dubai's latest sporting endeavour – Dubai Sports City – is part of Dubailand located next to the Emirates Road. The city, when complete, will play host to the Manchester United Soccer School (founded by Sir Alex Ferguson in 2005), the new headquarters for the International Cricket Council (ICC), which has relocated from Lord's; the David Lloyd Tennis Academy and the Butch Harmon School of Golf, along with the adjacent Dubai Autodrome and Business Park, which hosts A1 motorsport and pop concerts. The construction of this dedicated sports city has led to rumours that Dubai will bid for the 2020 Olympic Games.
Leisure treasure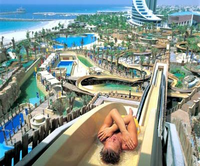 Wild Wadi, themed on a mythical Arab explorer called Juha and his chum Sinbad, is Dubai's water park located next to the Jumeirah Beach Hotel. It is a veritable celebration of cellulite, and you'll find all nationalities enjoying themselves, dressed in a range of attire from the skimpiest G-string bikini to fully clothed (including a veil), and everything in between. It's a superb day out for those more than 1.1-metres tall, whether they're five or 85. Operating on a cashless system where credit is loaded onto a wrist-watch type strap, which also acts as a key to your locker, more than 20 rides propel visitors round the park's 12 acres.
The Jumeirah Sceirah is believed to be the fastest and tallest free-fall slide outside the US, the end of which will leave you grovelling for your swimsuit's undercarriage; other rides include Master Blaster slides, uphill water roller coasters that pummel your bottom; the Lazy River, and the Flood River, with its surprise waves.
Shopping
Dubai positions itself as the shopping capital of the Middle East and boasts a range of air-conditioned shopping malls offering international brands. Yet, just as in the home rental market, rents for retail space throughout Dubai have doubled in the past year, which has led many retailers either passing on the price hikes to their customers or closing down completely.
Several of Dubai's malls are themed, such as Mercato and the Ibn Battuta Mall, designed to entertain patrons and provide a shopping 'experience'. The Mall of the Emirates, with some 450 retail outlets, even offers Ski Dubai, the city's first indoor real-snow ski resort. Even bigger will be Dubai Mall located at the foot of the Burj Dubai.
Mall hours vary from being open all day from 10.00am; from 8.00am–1.00pm and 4.00–9.00pm . . . and everything in between. The majority of larger shops outside malls are closed on Fridays, and closed during Ramadan until 4.00pm.
Haggling is expected in the souks, but shopping malls, on the whole, operate fixed prices, although some electrical shops do not price their goods until they see who wants to buy.
Souks
Traditional local markets, souks provide Dubai with an element of spit-and-sawdust reality, and are a must see, especially with your winter visitors. Vying for space along narrow streets, the many outlets are noisy and aromatic, and vendors will engage you in conversation, offer you soft drinks, tempt you with offers to buy their spices, rugs, silks and gold among many others, and allow you to sample many of their edible wares.
Cinema
Dubai shows many of the latest blockbusters – it even showed censored versions of the controversial The Passion of the Christ and The Da Vinci Code – but unfortunately, many cinemagoers' experiences are disrupted by those who refuse to turn off their mobile phones during the film. In addition, disruptive patrons will also flood the screen with scribbles of red light from their laser pens, especially during 'intimate' scenes, such as when actors of different genders hold hands.
Eating out
There is an eclectic choice of dining options available, but for residents, Friday Brunch is a revered and much-loved Dubai institution. For a fixed price, ranging from Dhs65–Dhs395, you can seriously overindulge on real pig bacon and eggs, along with several complimentary alcoholic drinks, followed by a traditional Sunday roast, with all the trimmings; or slurp down top-brand champagne while nibbling on delicate canapés, followed by a traditional English breakfast and a Sunday roast if you've got the room. An all-day affair beginning from around 11.00am, there's often entertainment for the kids and special children's food areas, replete with small serving dishes, colourful tables and chairs and, quite often, TVs showing cartoons.
From Living and working in Dubai by Pippa Sanderson.