Studying at BISC Wroclaw
Through the eyes of the students
Find out why BISC Wroclaw is an ideal learning environment for internationally-minded students. These testimonials from current sixth-formers give you perfect insight into the school.
Two sixth form students have "just landed" in BISC Wroclaw . Both have been able to find tailor-made courses to suit their needs and show the variety of students who attend the school.
They are being welcomed to the school by girls already in the sixth form: Bo Moon, a student in Year 13, and Capucine, who is just starting Year 12.
Chae-Young Jang is from South Korea, and travelled thousands of kilometres to arrive in Wroclaw.
Bo Moon writes: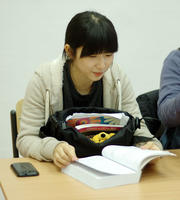 "Chae-Young Jang is 17 years old and is taking art and maths at AS level. This combination is a popular one, in September one of last year's students went to Kingston University in London after taking the same A-levels.
Previously Chae-Young was at Seolhwa High School and participated in a wide-range of activities including helping in an orphanage. Her long term aim is to become a kindergarten teacher.
She had some difficulty when she first arrived; she spoke no English at all. She has lessons to help her with this and has joined the Year 10 ESL group. Now, after 7 weeks, she has settled and is enjoying lessons. She has begun to help with teaching Year 3 for P.E. and is even giving them instructions in English.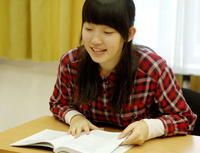 The courses that she is taking, with a little help from the Korean teacher, will be enough to gain the qualifications to enter a Korean university in two years time."
Capucine welcomes Maja:
"I have been at the school for four years. Previously I have been to school in England and America. Last year I sat my iGCSE exams and this year I am beginning AS levels in French, Spanish, History and English Literature. In all of these subjects I expected to be the only student, although Maja has now joined me in the literature lessons. I considered leaving at the end of Year 11, to take a baccalaureate course in Wroclaw . It is a difficult problem for international students to decide the best qualifications for their future; which country will I be living in when I go to university? Which country likes which type of qualification? How many subjects should I do? The questions go on and on…"
Maja writes:
"It may be hard to believe, but as opposed to my friends from BISC I have not travelled far to get here, I am Polish and from Wrocław.
I learnt about BISC while researching A-levels, which facilitate studying in Great Britain. As I have always dreamt about doing this I met with the headmaster. After the conversation I was sure that it was the place for me. The most important factors were: small classes; fewer lesson hours; and that each subject is taught thoroughly, by a teacher highly experienced in their area.
On the first day in the new school there was a discussion about my plans for the future, hobbies and the field of study which I would like to choose. I was advised very professionally by the headmaster about what to do to increase my chances for admission to the best British universities.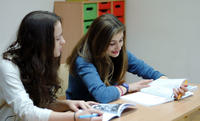 On the same day I met my new classmates, students from all over the world. Every day is a cross cultural experience for me: I share views, try different food and hear about varied life stories.
I have been in BISC for more than one month and I can already confirm that each lesson is taught very interestingly – for example, in English literature lessons we not only read and interpret texts, but also act out scenes from them.
It is important to me that I develop my violin playing skills – already I have had the opportunity to play with the school music teachers, who are extremely talented instrumentalists.
I appreciate the fact that the door to the headmaster's room is always open and teachers are always helpful and ready to solve problems.
Having attended a number of schools in my life I think that BISC is the best; I would recommend it to students wishing to study in the UK in the future."
This article was submitted by the British International School of Wroclaw and was written by student Maja Rogozik.