Obviously fitting all of the criteria above and being the typically young adventurer on a petty budget, social travel and couchsurfing was the way to go and the way to help me survive. One of my Swedish mates I befriended when travelling recommended car-pooling sites like shareyourride.net to save up on travel costs. Thankfully there were no hiccups using that alternative form of travel. Along with saving some mega bucks, I felt a little high and mighty knowing I was helping reduce my carbon foot print.
After busting it out in hostels for 3 months straight, I started using websites offering rooms direct from owners, which were a great substitute.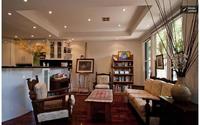 I have been using couchsurfing a lot during my time in Melbourne but managed to score a pretty cool apartment at a pretty good price. Sweet!
It will be interesting to see in the next few years how couchsurfing will develop. In the end, using alternative accommodation such as flat sharing is the best way for me to socialise on my journey. I did come to the realisation that carpooling and couchsurfing can be quite tiresome at times, as you are always meeting new people and pretty much telling them your life story. If you aren't the most social of butterflies it can be quite testing but if you are a social traveller such as the many 20 something's like me on their own, you will find that it can be quite an enlightening experience.