Expat neighbourhoods in Brussels
The province of Brussels has 19 different neighbourhoods. Etterbeek, Uccle and Woluwe-Saint-Pierre are generally considered the best for expats.
Etterbeek
Etterbeek, an area just south of the city centre, is very popular amongst expats and has a bustling international atmosphere. Its close proximity to the European Quarter make it ideal for anyone working there.
Property here is more expensive than in many other areas, but its large 20th century styled townhouses and international schools make it great for expat families. It is also home to many theatres and cultural centers, as well as gorgeous parks, such as the popular Parc du Cinquantenaire or Jubelpark , which is also a national landmark.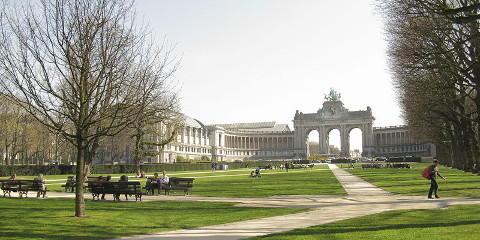 Uccle
Uccle is the second biggest municipality in Brussels. Thanks to its village feel and great location, it is a very popular area with expats and locals, but unfortunately this also makes it one of the most expensive neighbourhoods in Brussels.
In general, it is great for expat families. The houses are large and have generous gardens, there are seven international schools, loads of parks and it is also close to The Sonian Forest which is great for family walks and bike rides. Uccle's local Parc de Wolvendael even hosts family friendly concerts during the summer.
Woluwe-Saint-Pierre
This residential area is popular for its calm and quiet environment. It's right on the outskirts of Brussels and has easy access to the highway so is ideal for anyone who likes to get out of the city on weekends. The airport is also just a short drive away.
Woluwe has a great variety of housing options, including large villas, small family homes and good-sized apartments. Many shops, restaurants and weekly outdoor markets are located on the famous Avenue de Tervuren that passes through the neighbourhood. There is also a state of the art sports centre with a swimming pool, tennis courts and a football pitch.
Expat neighbourhoods near Brussels
Waterloo and Tervuren are two of the most popular neighbourhoods just outside Brussels.
Waterloo
Just outside Brussels is the town of Waterloo, made famous by The Battle of Waterloo (not to mention the Abba song).
Waterloo is the perfect area for expat families. From the moment you arrive, the welcoming local community (20% of which are expatriates) will help you feel right at home. The big family houses often come with nice gardens and, unlike in a lot of popular expat neighbourhoods, they are not super expensive.
With all the conveniences of a large town while maintaining a small-town feel, everything you could practically need - shops, supermarkets, medical facilities, international schools etc. - can be found here. International schools like St.John's are family focused and offer top-quality education. Many families live just minutes away from their children's school which creates a really strong local community.
There are also loads of things for families to do together on weekends: from cinema trips and days at the local aquatic centre to visiting the many historical sites and going on bike rides in the Sonian Forest. Plus, with one of Belgium's main highways passing right by, there is easy access to destinations in all directions and the airport is just a 20 minute drive away.
Tervuren
Tervuren is an area located to the east of Brussels in the province of Flemish Brabant. It is one of the richest neighbourhoods in Belgium and has a thriving expat community.
Houses here are expensive, but they usually have very big gardens which can make the price worth it. Home to the royal family's summer residence - the Villa Clémintine - and the beautiful Park Van Tervuren where you can go on bike rides, go horse riding and visit the famous Royal Museum of Central Africa , there are plenty of things to do right on your doorstep.
The official language in Tervuren is Dutch, but French and English are also widely spoken thanks to the many expats who live there.
[Image 1: Demeester
, Parc du Cinquantenaire]
[Image 2: Stephane Mignon
, Avenue de Tervuren]
[Image 3: Johan Bakker
, Park Van Tervuren]