City tour
If you are in Brussels on a short trip, a city tour would be your best choice to explore the highlights that the city has to offer. City tours usually take half a day and include going around the city by bus with a guide and walking to iconic sites.
The Grand Place, the Royal Residence, the Palace of Justice, the Triumphal Arch and the EU buildings are just a few of the popular sites you will see on a city tour.
Marolles Flea Market
From clothing, to artwork and even vintage furniture. This flea market that is open 365 days a year has everything you need when you are looking for something ancient but special. It's not that big but still good to spend an hour or two. It is also surrounded by many cafes and restaurants so it is perfect for a morning stroll after breakfast.
Chocolate walking tour
You have not experienced Brussels if you haven't been on a chocolate walking tour. There are many chocolate tours offered around the city where you can taste chocolate, join a chocolate making workshop and visit the best chocolate shops that Brussels has to offer.
Tram Experience
If you want to experience Brussels in a totally different way, the Tram Experience is something for you. Aboard you can enjoy a five course meal served by some of the city's top chefs, while you pass Brussel's most beautiful places. So sit back, relax and enjoy Brussels by night from a dynamic view!
Café Belga
Café Belga or simply Belga, as the locals call it is one of the most visited bars in Brussels and used to be the headquarters of Belgium's first national radio station. Belga has a relaxed and homey atmosphere and is always packed with locals, tourists and even expats enjoying some typical Belgian cafe food.
Belgian Comic Strip Center
What many people don't know is that Brussels is actually famous for its comic book history. The Belgian Comic Strip Center explores the history of comic strips in Belgium, with Hergé and his "The Adventures of Tintin" being the gem of the museum.
If you are not really into museums, there are also many buildings in Brussels that have comic book murals on the side. Exploring these murals is a great way to get around the city.
The Atomium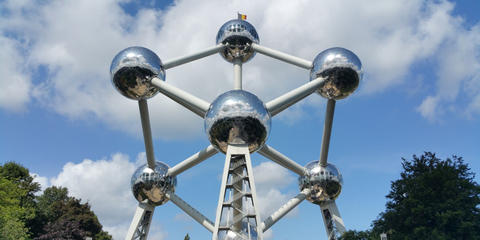 And last but not least; the most famous atom in the world. With its 100 metres tall, this is the most recognised landmark in Brussels. The Atomium was made in 1985 to welcome a new and atomic age in Belgium and represents a single unit of iron crystal magnified 165 billion times. Make sure you take the lift to the top to enjoy some food and a Belgian beer.