The Little One
What can one say about a very special person? An individual more absent minded than my cat. But it's okay! It's his first time away from home after his graduation from the University. Coming from Central Europe and looking for some English teaching experience, he came to China for an adventure of a life time. He is originally from Krakow, a city full of history and surprises. This nation [Poland] that has certainly changed in the last 30 years and one of the most conservative countries in the whole of Europe, is a place noted for beauty.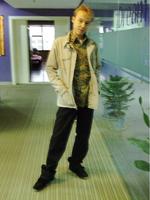 Thank goodness for Poland, country that saw with great honor the birth of Pope John Paul II and Lech Walesa. Through its history, the country went through many changes. The most dramatic one was the 20th Century. Many Poles served as members of the Republican Army during the Spanish Civil War (1936-1939). And tragically, this country was later invaded by Germany in 1939 and later after the Second World War by Russia. The Russians kept Poland for the following 44 years, until again it gained its freedom.
Now, the Little One [Jacob] has come to Shaoxing to offer his English experience to us. And it has been his absent mindedness that has kept everybody on their toes.
Life started like any other day, when we 'hit' the back and 'seedy' streets of Shaoxing. Call these places where only the "good girls and boys" go. We began to drink in good company and to arise to the moment, there was a plan… Let's go to another club! Like it was the last night of our lives to have fun, we drank away until it was time to leave. As we decided to go "Club hopping", our little group took a taxi to the next club, Baidu, another place for "good girls and boys". Oh my God, the Little One had forgotten his wallet in the last bar. Racing crazily in a taxi back to the original bar, we nervously arrived and checked if the wallet was still inside. With great joy, the decent people of Shaoxing had kept the wallet at the bar. It had all its remains inside! So, with this relief, we could go "Club hopping" for the rest of the night. Later ending at SOS, where there was plenty of drink, song and dance to go around! It was a great night…
Although, by the end of the night, everybody was vomiting their remains of drink and food! But it was still great! The poor Little One would later drop his phone and destroy it! Well, welcome to China. That is accident or incident number two. He had to get a new phone from this situation.
The following time, in a moment of rush, he ran out of his apartment. But he forgot one thing… He accidentally left his key inside! With one stroke of luck, the Little One had gone 3 for 3. Well, this is something that could have been handled easy. Not this case. It so happens that even with the spare key, we couldn't get into his apartment. He left the key inside; however he forgot that he left it attached to the lock.
It would have been a night in a hotel for the boys or do something crazy… Therefore, it was up to us to do something. Climbing to a back window of the apartment, on the second level, it was a matter of forcing the lock and opening the window. It was when Wali started running around, trying like crazy to get a metal rod or a pair of pliers.
Sweet was pouring from our backs, as Wali desperately called everybody from Isabelle to Judy [our Human Resources people] for help! Finally, he found a neighbor with a pair of pliers. She was kind enough to lend them to us and it took another 30 minutes to force the lock open from the second level. Oh what a night and the crazy-absent mindedness of the Little One!
Wali, the conqueror
Oh my God! Who is this strange young man that surrounds our mist? He was born where? In a mysterious land called Afghanistan, in a war torn country that has been at war for this past 29 years. But his parent later took him and his brother Ali out to Kuwait.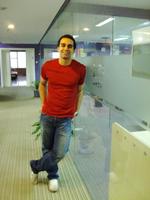 The Middle East, one of the places I served in and even invaded. Kuwait I know, since visiting there in 1991, Afghanistan I do not. I recall lifting my arms as the victor, as a car drove me into Kuwait City. Dressed in typical Bedouin fashion, my clothes ragged from the desert sun and my skin nearly black from the exposure. When I entered, did I miss Wali as a baby? As families paraded our entrance, later Kuwait would change into McDonald's and Shopping Malls. Here is where Wali learned his English. The powerful Middle East that swallows men could not swallow this young boy.
He comes from a beautiful Muslim background. But he is focused on being a liberal, since he grew along the lovely cities of Germany, with the thirst for drink and nightlife. With fluency in two languages and he may be dabbling with a third or who knows, a fourth, maybe.
This young adventurer had also traveled into Spain, searching for good wine that makes any dinner taste great and good Spanish food. He is great, he is lovely! He is Wali, the conqueror. After dancing around the discotheques of Germany, he moved to England to complete his studies in Economics. England was only the start…
After completing his Bachelor's degree, he plans for a greater move, to complete his Master's and who knows? He is now in China. He may fall in love with this place and stay forever. Maybe it will be the right girl and right time. That's the magical thing about China: it's simply amazing with the country's soft, lovely and giving people.
As Wali thinks about the future, this is certainly the present and he is in Shaoxing. Having what can be considered the best time of his life. An adventure that will take him far and wide; fun is in the horizon, my boy! Fun is in the horizon!
Wali especially enjoys R&B, soul and danceable Hip/Hop. It certainly agrees with him. A normal day is a Starbucks for a coffee, a workout at the gym and later dressing-up like a football star. At night he will move into the enjoyment of a Carlsberg beer and where he is awaited by his mates in Bon Bon Café.
It certainly grows hectic and crazy at the office, for this is the beginning of his teaching career in English. But life is never boring, while protecting his seniors from getting locked into a McDonald's bathroom because they are too drunk to respond or think for themselves. Or roommates that leave their keys inside the apartment.
This is Wali, a friend to be remembered. He is one to certainly become a great teacher and enjoy like the great conquerors, the treasures and beauties of China! Good luck and many blessings…
By Daniel Otero
Company: TEFL, Shaoxing, China
Telephone: 001-787-424-0153
E-Mail: