Flights to Cyprus are available from most major airports to Nicosia, the capital. It's tempting to hire a car right off plane, but be aware that there is a €15 airport surcharge for doing so. To avoid this extra charge just hire a car once in town. Prices usually range from about €10-€35 per day, depending on the size of the car. Car hire agencies range from the local to international (including Hertz, Avis, and Europcar). All you'll need to hire a car are a valid British or EU driving licence and a credit card. If you're travelling in summer consider getting aircon too!

Fortunately for those arriving from Britain, Cyprus drives on the left side of the road and has road signs in both English and Greek. Unlike Britain, however, the Cypriot driving style can be a bit less polite. Sounding one's horn and driving aggressively are common practices. As long as you're prepared, though, you'll be fine.

After a few days exploring the Nicosia (don't miss the splendid Hamam Omerye Baths) toddle on south, towards the mountains. If skiing on Mount Olympus isn't to your taste, head straight for Cyprus' second largest city, Limassol. This is where to soak up the vibrant culture of modern Cyprus and treat yourself.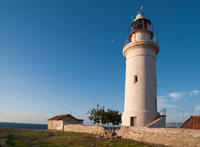 Next stop: Pissouri, a traditional Cypriot village overlooking the sea from a hillside perch. Proud of their traditions and welcoming, village life in Pissouri is centred around the coffee shop on the village square.

Continuing onto Paphos which is famous for its pristine beaches. This popular destination has something for everyone. For the adventurous, outdoor sports abound, and culture mavens can explore the archaeological wonders of this eight-thousand-year-old city, including the medieval castle and gorgeous mosaics.

From Paphos, you can cruise more of the coast or head inland to explore small mountain villages and enjoy the freedom of driving around Cyprus.
Photo by Eric Bézine