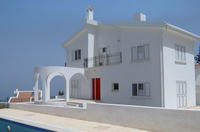 A self catering Cyprus holiday can be of great benefit to families with children looking for a relaxing time. An increasing number of Cyprus self catering holiday homes are owned by UK citizens and other foreigners. Most of them have children and grandchildren and want to have an enjoyable holiday in a safe environment.
Cyprus boasts many fantastic leisure activities to keep your child occupied. Also the parents will enjoy it. You can for example have a great time at a water park with your kids and tire them out before you enjoy an evening meal.
The Sun
Don´t underestimate the sun which can be very strong and dangerous in Cyprus. Therefore suntan cream is obligatory in Cyprus! Also you and your children should not spend more than 20 minutes in the sun before reapplying protection.
Drinking Water
Because of the high temperatures it is recommended to drink plenty of water while your holiday in Cyprus. In general, mains water is safe to drink.
In addition to that, most self catering villas and apartments provide a water dispenser with a 19litre bottle that can be purchased or replaced at many of the markets. You may also find fill up stations located at road sides in your holiday village. When out and about we suggest you have a cool bag and take plenty of small bottled water with you on your journeys. Ice may still be problematically and to be on the safe side: Do not take a drink with ice before finding out if it is made of tap or bottled/spring water.
Beaches and Swimming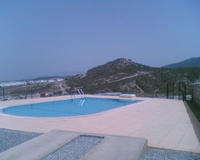 Cyprus offers some of the best beaches in the Mediterranean! The beaches in Cyprus are safe and many have been awarded the international recognized "Blue Flag". Sun loungers and umbrellas can be hired at the resorts. Your child should always wear protective footwear while on the beach as occasionally sharp objects are discarded. Also sea urchins are in abundance and can cause pain and a visit at the doctor.
Sea currents are unpredictable and your children should be supervised at all times. Normally you will find a line of buoys located in the sea: This shows where it is safe to swim and where the dangerous area begins (where speedboats and jet skis can be used).
Lifeguards are available at most seaside locations. Make sure your children are aware of the location of the lifeguard, if your child gets lost the guard will look after them until you are located.
If your holiday home has a swimming pool, it should be maintained weekly (ask the owner). Although the pools are safe please do not leave your child unsupervised! Always check the pools depth before your child uses the pool.
Food
Cypres food can be fun and the kids can experience some fantastic new flavours. Of course it can be difficult to make a child eat something "foreign". However the Cypriot cuisine is "child friendly" you should always check for the chilli rating of a dish before ordering it. Also on that note if you take ketchup make sure that it is the normal kind and not the chilli laced product (which is very popular in Cyprus). In Cyprus you can buy almost all the products that you know from your home supermarkets. The restaurants also serve the basic burger, sausage, fish finger (child menu) type of meals that kids can cope with!
Medical
Before your trip please make sure you have an appropriate insurance and your EU reciprocal medical card. Apart from the basic first aid kit that should take with you, most products you can buy at the local pharmacy. You will find out that pharmacists can be very helpful for ailments that may be unfamiliar to you. these can be sand fly fever, mosquito bitesor a splinter from an urchin. The doctors, dentists and hospitals are very efficient and in some cases have been noted as better than the UK's national health system.
Babies
You can buy quality nappies of both local and international brands in Cyprus. Baby foods of international brands are available in most major supermarkets. Baby milk powder of international brands is also available. Most self catering holiday homes provide high chairs. Also the majority of good restaurants provide high chairs and baby changing facilities. Baby wipes can be bought in most major supermarkets.
My checklist for a Cyprus self-catering holiday
Child Sun Protection cream
Cool bag (check if the property owner supplies one)
Sun hats
Rubber beach and sea footwear
Plasters
Mosquito repellent
Chap lipstick
Mosquito nets (check if the property owner supplies them)
Push chair (can be hired throughout the island)
Car seat (reputable car hire firms provide them free of charge)
Pram/buggy parasol
Insurance and EU reciprocal insurance
By Tony Rothery from wish2rent (email: ).
Wish2rent helps you to choose a property for your Cyprus holiday. Owners of Cyprus self catering villas & apartments have included several photographs of both the inside and outside of their rental property, as well as a full description and details of the facilities to be found at their holiday villa.