Certainly, a Dubai winter is the perfect time for outdoor living; on a par with the best in the world and, for six months of the year, it's mild and sunny on the whole, although there are strong shamals (winds), thunderstorms, rain and even hail the size of marbles on occasion. When the rains come, the roads will flood and it's best to have a raft of towels on standby as your apartment or villa may flood because of its non-waterproof window frames. Snow even fell in the Hajar Mountains in Ra's al-Khaimah during the winter of 2004/5, the first time in more than 40 years.
From May to October, it's extremely hot and humid; even sunglasses steam up in temperatures that can exceed 50°C, with humidity some 90 per cent and beyond.
Fortunately, air-conditioners are everywhere and Dubai's residents manage to get through the summer by leaping from one air-conditioned environment to the next.
Tax
Although there is currently no income tax in Dubai, don't be fooled into thinking that life in the United Arab Emirates is tax-free. There is Municipality Tax on property: five per cent of annual rent, or 0.5 per cent of the price of your home per year if you've bought. In addition and perhaps not surprisingly, alcohol is taxed at 30 per cent; there's five per cent tax on things like concert tickets, and 10 per cent for food and alcohol at restaurants.
Inflation
According to the Gulf News, the National Bank of Dubai has put Dubai's inflation figure at between 15–22 per cent. The IMF, which has flagged inflation as the UAE's number one challenge, has estimated the country's inflation at eight per cent. These figures are sharply at odds with the official inflation figure of between four and seven per cent (July 2006). One of the major contributors to rising inflation has and continues to be huge hikes in house rents.
As safe as houses?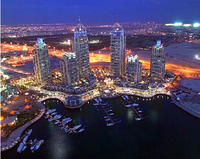 Dubai lies on the Western Coastal Fault Line, in a region that experiences low-to-medium levels of seismic activity. An earthquake in neighbouring Iran in November 2005, measuring 5.9 on the Richter Scale, was felt by Dubai residents, causing widespread alarm.
Fortunately, although buildings trembled, none collapsed. According to Dubai Municipality, all buildings constructed in the past two decades have had to conform to stringent building regulations, designed to withstand the forces of an earthquake measuring five on the Richter Scale. The government has also brought in US engineers to advise on the construction of such behemoths as Burj Dubai, a contender for the title of world's tallest building. However, it's unknown whether such massive construction efforts, focused in a relatively small area over an extended period of time, will have a cumulative effect on a city so close to Iran's major fault line.
A place to live
There are more than 235,000 housing units in Dubai and 70 per cent of the population rent their homes. If you move to Dubai, you have the option to rent anywhere or buy in certain 'freehold' communities.
Since 2002, when expatriates entered the property market, rents for apartments and villas have increased dramatically. The pervading atmosphere since has become one of increasing greed, which seems to grip more and more people because there are no effective safeguards to temper it. Add price increases in basic goods and services, along with wages that barely move upwards, and you're likely to find that it's almost impossible to save money in Dubai. In fact, rents have increased to such a degree that many expatriates have either left Dubai altogether, moved in with friends, moved their families back home or moved to a different emirate, such as Ajman, where rents are half those in Dubai.
Crime
Dubai feels very safe and is widely regarded as one of the safest cities in the world. Its police officers are usually courteous and generally fair, but typically appear unhurried in their actions.
Expatriates living in Dubai must ensure they temper their actions to match those acceptable to an Islamic state. For example, it is illegal to make rude gestures or kiss intimately in public.
All too frequently, reports in the local press recount tales of errant expatriates who have not appreciated this fact. For example, a Tanzanian man received a six-month jail sentence for having an offensive sticker on his car and a British woman was sentenced to a month in jail for gesticulating in an offensive manner to an undercover policeman in an unmarked car.
The punishment for drug offences is severe, although the severity of your sentence is likely to depend upon your nationality. A Pakistani woman was sentenced to death by Fujairah's Shariah Court after being found guilty of possessing cannabis with intent to supply. Meanwhile, a UAE national convicted of the same offence had his sentence reduced from 12 to eight years upon appeal.
You can be jailed for bouncing a cheque, with the plaintiff having three years from the date the cheque bounced to make a complaint to the police. In fact, there are so many bounced cheques that the police have a specialist department to deal with them.
DNA database
At the end of 2005, the government outlined plans to take DNA samples from every UAE resident, regardless of nationality, profession or status, to help the police in their fight against crime.
ID cards were introduced in July 2006, with the President, Sheikh Khalifa bin Zayed Al Nahyan, being the first recipient of the new card. If you move to Dubai, you will have to have an ID card too, which will not only contain details of your DNA, but your fingerprints too. The idea has been criticised by civil liberties groups, fearing it paves the way for a police state.
Jail time
Unlike the West, where jail is reserved for the most serious offenders, it's easy to find yourself behind bars in Dubai, for swearing, bouncing a cheque or taking prescription medication.
Holidaymaker Tracy Wilkinson, a 43-year-old British grandmother, hit world headlines when she was detained in Dubai in March 2005, after she was found to have codeine – an illegal substance in the UAE – in her urine, prescribed to her in the UK for a back injury.
And the Gulf News reported that two Iranian holidaymakers in their 50s, who arrived in Dubai for a week's holiday, were arrested at the airport for possessing medicines containing banned substances, including pills and syrup that had been prescribed to them in their home country. They were charged with smuggling and possessing drugs for personal use, and spent seven months in jail.
Telephone and Internet
Telecommunications services in the UAE are provided by two companies: Etisalat and the Emirates Integrated Telecommunications Company, otherwise known as Du. Landline calls to other local landlines in the same emirate are free of charge and other rates, including mobile phone calls, both locally and internationally, are far cheaper than those in other countries.
Internet services in some parts of Dubai are provided via Etisalat's proxy server, which can block certain websites if the authorities deem the content inconsistent with the religious, cultural, political and moral values of the UAE. Websites blocked by Etisalat's proxy include the obvious pornography, gambling and dating sites. Not-so-obvious websites blocked by the proxy include www.flickr.com, an online photo management website; websites that censure Etisalat and those that threaten the government's telecommunications monopoly, such as VoIP websites Skype, Vonage, Google Talk and Efonica.
Raising the kids
Although there are no government statistics indicating the expense of raising a child in Dubai, an April 2005 article by Paula Le Flohic in Emirates Woman broke down the costs for the very first time. Parents found they would need to earn football-player salaries, just to raise their kids in the emirate. And since that report was published, prices have risen exorbitantly.
Another consideration you have to think about when raising children in the UAE: parents can sponsor their daughters almost ad infinitum. However, you'll only be able to sponsor your sons until they're 18. When they reach this age, they're on their own.
School
There are some 85 private foreign schools in Dubai, offering a range of curricula from pre-school to GCSE/high-school diploma level, including those from the UK, USA, Canada, France, Japan, India and Pakistan. Because of the hot temperatures, school times vary, but can operate anywhere between 7.45am–3.00pm. Girls are educated to the same level as boys and free-of-charge public schools, once only available for UAE nationals, are now open to non-UAE nationals for a fee.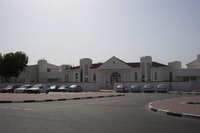 Schools are usually allowed to raise their fees by 20 per cent every three years. But, with the surge in property rental prices in the past few years, along with high inflation and fee-hike exemptions, many schools have been able to raise their fees by as much as 70 per cent. And there have been calls for this cap to be removed altogether. If this happens, schools will have carte blanche to charge parents whatever they like.
Post
There is no postal-delivery service in Dubai because there are no formal addresses in the UAE as such. Your address is a PO Box number in the Central Post Office building of whichever city you reside. Although there are street names popping up here and there, they are seldom used by anyone, except for one or two well-known roads such as Sheikh Zayed Road, the main highway between Abu Dhabi, Dubai and Sharjah. If you want to know where someone lives, you ask him or her to fax or email you a location map.
Flora and fauna
The desert habitat of the UAE supports a remarkable mix of wildlife, which also flourishes in the country's cities and urban areas as well, and Dubai is no exception. No sterile suburbia, there are several creatures with which to be wary, the most notable being the black widow, or red-back spider, whose numbers have swelled in recent years. Commonly seen in urban areas, they hide in secluded, rarely visited areas of the home and garden, among shrubs, under bricks and within rubbish. Although reports of spider bites appear to be rare, there was no antivenin available in Dubai until a newspaper highlighted the fact. Several ampoules were rushed into the country and are now available at hospitals.
Aquatic fauna to watch out for include jellyfish in September and October, and rays.
Medical care
The UAE has comprehensive and almost free health-care facilities, although don't necessarily expect the same high standards of service you might be used to. When you receive your residence visa, you should also be issued with either a Government Health Card, which allows you and your dependants non-urgent medical treatment at government hospitals at a nominal charge, or with a private medical card. Emergency medical care in Dubai – at the government Rashid Hospital – is free for everyone and there are no restrictions.
Home help
It's the norm to employ the services of a maid, or houseboy, who will usually hail from Asia. A number of agencies hire out staff and your maid will come to your home at times stipulated, for reasonable rates, usually for around Dhs20 an hour. However, you can employ your own maid or houseboy, but he or she is your responsibility and you must sponsor them.
They are entitled to free accommodation and it's usual for larger villas to contain small, separate quarters for this purpose. Earning between Dhs500 to Dhs1,200 a month, they are also entitled to a return air ticket to their country of origin every two years.
Ramadan
The holy month of Ramadan occurs some 11 days earlier each year as it follows the Islamic instead of the Gregorian calendar.
It is a month of fasting, a time for Muslims to reflect, contemplate and reaffirm their faith, which they demonstrate by denying themselves food, drink and cigarettes during daylight hours.
Non-Muslims are obliged to adhere to these rules in public too . . . by law. Article 313 of the Federal Penal Code states that daytime eating (including chewing gum), drinking, smoking or consuming anything that is breaking the fast in public, during Ramadan, is a criminal offence that carries a jail term of not more than a month or a Dhs2,000 fine. Those exempt from the law include pregnant women and pre-pubescent children.
Banking
You'll find some 55 local and international banks operating in Dubai; and there are numerous Automated Teller Machines (ATM) around the emirate, several of which are drive-through, a real boon, especially during the hot summer months. Many banks offer online services, where it's possible to pay your telephone, water and electricity bills through their portals. However, banks in the UAE, as a whole, are unsophisticated and inflexible when compared to the West. For almost everything you need to set up your new life, such as renting a home, to have a phone connected, to open a bank account (in some cases), or to purchase a car, you'll need to show evidence of your residence visa, which is stamped in your passport.
The environment
While many countries throughout the world undertake recycling as a matter of course and boast heavyweight environmental watchdogs, Dubai's multinational population, blissfully ignorant of the need to protect the environment, finds it extremely difficult to dispose of their waste in a rubbish bin, let alone a recycling bin, preferring to drop it where they stand and assuming it's someone else's job to clean up after them. This attitude and lack of education is, sadly, reflected at the UAE's many heritage and scenic sites, with plastic bags, bottles and other litter liberally scattered about.
According to the WWF, the UAE has the world's largest ecological footprint too and, as a result, the numbers of many species of wildlife have declined, victims of the UAE's building boom, hunting and trapping. Species affected include the White-Collared Kingfisher, whose numbers are estimated at less than 100. Even UN plans to protect the country's mangroves have been scuppered by irresponsible actions. However, at the beginning of 2007, the Ministry of Environment and Water announced it was preparing a code of conduct for construction companies that aims to preserve the environment during the country's development.
Energy
In a country with more than 300 days of sunshine a year, harnessing the power of the sun is such an obvious thing to want to do. But there's little evidence solar power has taken off in Dubai or the UAE, apart from small cells powering speed cameras on remote roads or flashing lights outside schools. When this form of alternative, environmentally friendly power is being embraced around the world, including in places that don't traditionally enjoy vast amounts of direct sunshine, why not Dubai?
Solar power is a long-term commitment and is expensive in the short term, probably one reason for a lack of this alternative power in 'transient' Dubai. In addition, little consideration for environmental issues and a lack of awareness have resulted in little demand.
Cost of living
In the past few years, the cost of living in Dubai has skyrocketed, a state of affairs corroborated by the annual Mercer Human Resource Consulting Cost of Living Survey in mid-2007.
The survey ranked Dubai as the 34th most expensive city in the world, (down from 25th in 2006; but 73rd in 2005), a reflection of the city's inflation rate, and massive increases in such things as renting your home and school fees.
From Living and working in Dubai by Pippa Sanderson.