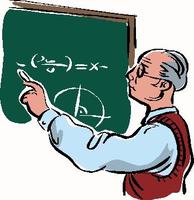 Although the French are inordinately proud of their own language, they're increasingly (albeit reluctantly) accepting the necessity of learning English and even allowing the Anglo-Saxon tongue to invade their own by using a growing number of Anglicisms. This means that English teachers generally have a certain degree of job security, at least until governments decide to teach English at a much earlier age in schools and with more efficient methods. Whether you're a young graduate wanting experience of another country and culture, someone planning to live and work in France long term, or a professional taking a career break who wants to try something different, teaching English can be a relatively easy way to earn a living. What's more, teaching English is one job where you really don't need any French.
Unless you work in the French education system or teach schoolchildren on a freelance basis, your customers will be adults. Teaching English as a foreign language, or indeed any other language or subject, to adults cannot be compared to teaching children in a school. First and foremost, the students are there for a specific (usually professional) reason. Someone (usually their employer) is paying for their course. The advantage of this is that the students are motivated – at least in theory. For many, success or failure could mean promotion or demotion. Most training sessions – the French generally refer to lessons as 'training' ( formation) – are on a one-to-one basis; groups are usually small. This means that there are seldom problems of discipline and no rigid curriculum to be adhered to. On the other hand, results are expected – often in a short time – and you may be under intense pressure to achieve those results.
Working conditions for teachers in France
Teaching English is anything but routine work – and not only in terms of what and how you teach, but where and when you teach. Teachers can be required to work in the centre or away from it, as classes are as often held on company premises as in the language school itself. This can also mean a lot of travelling from company to company, so a car is almost essential. Although the actual teaching hours may not seem onerous, preparation is an important part of the work. For full-timers, the ratio is 35 hours paid for 25 hours taught, i.e. ten hours' preparation. Moreover, teaching adults is rarely a 9-to-5 job, which can be an advantage or a disadvantage, depending on your circumstances and attitude. People want classes after work or at weekends, but don't expect to pay more – and the French want a lot for their money! In any case, a teacher must be very flexible to accommodate students and company schedules. This can mean starting very early and finishing very late, sometimes with big gaps in the middle of the day.
Contracts for teaching English abroad are normally short-term. you're simply called upon when there's a demand for additional teachers and ignored when there isn't. Even with a contract, there's little job security.
Qualifications for teaching English
Speaking English well isn't a sufficient qualification for teaching it. Note in particular that the French are taught grammar in school and you will be expected to name verb tenses and moods and parts of speech! Although it may come more naturally to some than others, teaching is a skill and certain techniques must be learnt. Requirements vary from centre to centre, and language schools don't always require a specific teaching qualification. A university degree and a respectable appearance may suffice. The formal qualifications for teaching English as a foreign language are a mass of confusing initials. Most people have heard of TEFL, but there's also TESL, TESOL, TEAL and CELTA. To confuse the situation further: TEFL, TESL, TESOL and TEAL.
Finding a teaching job in France
Industrial areas may not be the first you wish to consider as a place to live, but they should be high on your list for investigation for professional reasons, as the presence of a large number of businesses – particularly international companies and firms involved in overseas trade – is likely to mean demand for your services.
New language schools open every day. There are over 500 language schools in Paris alone. The British Council in Paris (9–11 rue de Constantine, 75007 Paris, (www.britishcouncil.org ) keeps a list of language schools and job vacancies. The larger language schools, such as Berlitz, usually pay the lowest wages, but are the most flexible regarding qualifications. Schools can also be found via the internet or the yellow pages, and specialist training magazines and publications, such as Vocable and the Educational Supplements of The Guardian and The Times often carry advertisements from language schools. As an alternative to a private language school, it's possible to obtain work with the government's further education organisation, Greta. Further details can be found on www.education.gouv.fr/fp/greta , where there are details of all the Greta centres nationwide. You can apply directly to state schools for a position as a language assistant( e). Many schools are looking for part-time native English-speakers to teach games and songs to young children.
If you're looking for private students, you should therefore use the following resources:
Newspapers & Magazines – Local newspapers and magazines may have advertisements from people wanting English lessons, or you can place an advertisement promoting your services.
Shops & Offices – Shopkeepers in France are often willing to put a notice in their window or even on their counter free of charge, although it helps if you're a regular customer.
Schools & Universities – It's worth checking the notice boards in lycées and universities to find students (and possibly teachers) who want private lessons.
Clubs & Societies – Find out about local clubs and societies (from your town hall or mairie) and go along, with information about your services.
Networking – Let as many people as possible know that you're offering English lessons, as French people are more likely to respond to word-of-mouth 'advertising' than to any other kind.
There's a plethora of material designed to help you teach English and other languages. The material is usually divided into General English and Special Subjects, and catalogues are normally further divided into three age categories: children, young adults, and adults. Books are normally accompanied by audio-material (cassette or CD) and often by a video or DVD featuring the people appearing in the book. A teacher's guide is normally provided, to help you plan your lessons.
Languages aren't the only subjects that can be taught by expatriates in France; in theory, any skill can be imparted as a way of making a living – an art or craft, singing or the playing of an instrument, technical know-how such as computing . . . or even cookery.
This article is an extract from Making a living in France.
Click here to get a copy now.