It was not until the 1980s that pubs decided to expose more of the Irish culture at home and abroad and lessen the English style of serving. In other words, many Inns, B&B (Bed and Breakfast) and pubs established a passion for culture and cuisine, leading to the first revival of Irish gastronomy in years. Along with pints of Guinness, and their motto: "It's good for you!" there was also the offer of delicious potato stew, mud-pie, Shepherd's pie and strong black-breads, all prepared with savoury finesse in the kitchen. Well, not so much finesse, just the attitude: "If it's good: eat, enjoy, pay and go!" Maybe in terms of politeness it wasn't the greatest of service, but the food of the Emerald Isle certainly got better!
It was in Ireland that I came to enjoy spare-ribs. The food is intriguingly delicious, something that I cannot say about England where I was stationed for two years as a young man. Fish and chips, well okay, but beyond that, there's nothing else! What does the UK have to offer other than Chinese, Arab or Indian Cuisine?
Ireland was the beginning for me and it has been for these past 18 years. Since then, I began visiting southern Ireland for its delicious, artistic cuisine. Dublin is home to the Temple Bar District with the greatest malt beer, splendid Celtic music and what the heck, I'm going to repeat Shepherd's pie since it's my favourite! The pie has a layer of potato, meat, cheese and gravy. Better still is the mud-pie, full of sweet chocolate and built in a lava-like volcano, that's quite fashionable today! Dessert is always the norm: an Irish coffee. And to finish, a Jamieson whiskey! But there is no end to all these experiences: there's always the desire to continue...
Now, other than the Temple Bar District, what other places are there to eat? All of Ireland has its own enchanted views with delicious cuisine. One of my favourite places for serving good food is the traditional B&B. It is the simple idea of paying €30-40 per night to sleep in a typical Irish home and then being served a tasty breakfast in the morning. Breakfast consists of: black-bread (a rarity in America), fried eggs, fried tomatoes, sausages and black-pudding (a sausage like feast, stuffed with all kinds of meats, rice and other pork surprises. Tasty, yes, indeed it is!) The tradition of sitting down to a big family meal has not been lost in Ireland. Whereas in the States, as well as enjoying a good meal, 'quality of life' is another concept which has been lost!
Outside of Dublin, my favourite stops for restaurants are Athlone, Galway, along the Burren (best breakfast and juicy spare-ribs), Bunratty (best castle), Sligo (for top B&Bs), Dingle Peninsula (the most western point of Europe and along whose coastline you might see "Fungi" the star Dolphin), the Ring of Kerry (one of the best sites to view the whole of Ireland), Cork, Waterford and Arklow (watch for the leprechaun crossings). The highlight of eating all over Ireland is sitting down with a view of the coastline, its green mountains or a castle right in front of you. During all the culinary and travelling experiences, exploration remains the best part.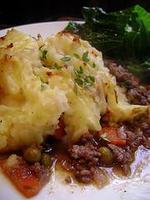 During the 18 years that I've been visiting Ireland, I could never honestly say, "The food was crap!" That would be a lie. My experiences have been surprising. I left England worried, not knowing what to expect from Ireland, but in nearly 20 years, all my misconceptions have been reversed. My next goal is to go to the only place I haven't visited: the Peninsula of Berea; a popular tourist destination.
Food, drink and love are the gifts of life! Family, sharing, seeing and enjoying are the memories one takes along with the pleasures of travel, people and food! All I can do now is wait to be positively surprised after my fifth visit to Ireland!
Written by: Daniel Otero, San Juan, Puerto Rico
A consultant that writes part-time as a hobby.
" My dream is to retire in Ireland!"