Travelling around Malta is straight-forward. Many people rent a car so they can get around to the many places of interest dotted around the countryside. However, hiring a bike is good option as most towns and villages are a manageable distance apart. Malta may be small but is a large amount of historical sites, prehistoric remains and fortresses to discover in different corners of the main island.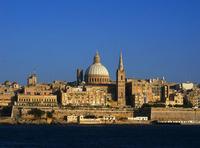 The capital of Valletta is on the east coast and the city itself has been declared a UNESCO World Heritage Site. Its glorious skyline and grand Baroque architecture is crowned with dome of the Carmelite Church. Across the bay are 'The Three Cities' of Cospicua, Vittoriosa, and Senglea. These areas are the site of very old settlements which have been relatively unspoiled by tourism with stunning harbours, palaces and churches. They are surrounded with the 17th century fortifications, the Cottonera lines, built by the Knights of St. John.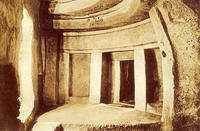 In Paola, you can find the oldest underground prehistoric temple in the world, the Hypogeum of Hal-Saflieni. This is a unique place which in ancient times was used for worship and then later as a necropolis. The number of visitors is strictly limited, so you would be advised to book well in advance of your trip.
For another glimpse into the past, visit the Mnajdra temple complex on the south coast. The oldest constructions may date back to 6000 years ago, this is one of the oldest religious sites in the world. In use for worship during thousands of years, some of the artifacts found on the site point towards its significance as place where people may have asked for healing from illness and prayed for fertility.
Gozo and Comino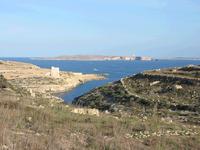 You can take a a car ferry to rural Gozo by ferry. There is accommodation here in the way of quiet villas and farmhouses to rent. Although the Ggantija temples are another spectacular example of megalithic engineering, this island's star turn is its rugged natural beauty. The layered cliffs and unusual formations around Dwerja include the Azure Window – an archway of rock jutting out into the sea – and Calypso's Cave, a site rumoured to come straight from the pages of The Odyssey.

Comino is small and car-free with only one hotel, so it is perhaps better suited for a day trip from Cirkewwa at the north end of Malta. However, it is well worth your time for the sparkling Blue Lagoon and some spectacular diving and snorkeling waters, as well as the kind of quiet island idyll you can rarely find elsewhere.
Where to stay on Malta?
There's no shortage of accommodation options on Malta itself; from holiday flats in St Paul's Bay to hostels and even a few well-situated camp sites around Il-Mellieha in the north. The main airport is south of Hal Qormi and many tour operators now provide all inclusive holidays arranged with hotels in the more touristy resorts of Golden and Mellieha Bay.

Malta is a small place packed full of surprises!