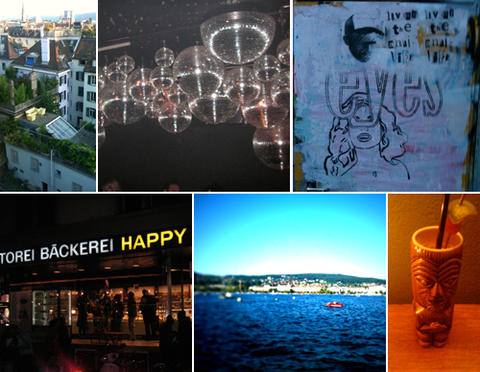 1. Eat chocolate
Enter any supermarket and eat your way through the range of chocolate. If you're looking for something special, visit one of the city's many Confiserie Sprüngli stores. This traditional confectionery chain is known for their pastry and also has excellent truffles.
2. Buy something made by Freitag
The Freitag brothers make bags, wallets, laptop cases and much more out of used truck canvas. Almost everybody in Zurich possesses an item made by them. Visit the shop at Freitag tower , where you shouldn't miss the view from the sunny rooftop platform.
3. Jump into Lake Zurich
Seriously. Who needs to go on a holiday when you can jump into the lake in the middle of the city?
Whatever season it is, Seebad Enge is the best place to do so. In winter, the popular summer bath turns into a sauna. Be brave and jump right in to Lake Zurich after having a long, hot sauna.
4. End the night at Happy Beck
With its many bars and clubs, the Langstrasse is definitely the place to be for night owls. After a long night, go to the bakery, Happy Beck , open 24 hours a day. A double cheese sandwich or hot dog may not be the healthiest choice, but it's possibly the best strategy to prevent a sizeable hangover the next day!
5. Find a bargain at a flea market
A Saturday in Zurich isn't perfect without a stroll through one of its flea markets. The two largest markets are held every Saturday from 07:00, at Kanzlei and Bürkliplatz . In summer, there is also a flea market at Frau Gerolds Garten which starts at 09:00.
Article submitted by myfriendfromzurich