Get help!
Most importantly, take professional advice and only deal with established and reputable agents. This means they are registered as a "Nekretnine", under a name ending with the symbol "d.o.o".
Their charges for viewing and sales commission should be readily available; typically these range from 3-6%.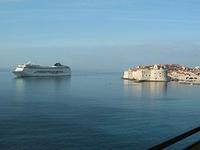 They should invest time in checking the title of properties before listing them and they should have a track record of having successfully sold to non-Croatians.Ensure you have your own lawyer and are not sharing the vendor's advisor. More often than not Estate Agents will come with their own solicitor.
WARNING
Sometimes you will find that the same solicitor is acting for you and the vendor, which can lead to a conflict of interest.
Budget for total professional fees (Agent, Lawyer, Surveyor) of between 7-10% due to the complications involved in an emerging market.
Property Type-Complications can occur with older property where title may be unclear but as long as you take independent professional advice then the process is getting easier all the time.
Land Purchases
The GUP (General Urbanistic Plans) and DUP (Detailed Urbanistic Plans) are still not approved for the Dubrovnik Region and for many other areas in Croatia. As it stands, any land offered for sale can be re-zoned with out any consultation with the owners of that land. This can and does cause problems.
Ensure the property has a clean title. Particularly with older properties the records are often out-of-date and inconsistent, with poor linkages between the property registers (usually located in the first instance in courts) and the cadastral (Land registry).
Property was often sold by simple contracts among local people and consequently never recorded in the Land Registry. This means the deceased can still show as owning the property in the Land Registry!
Was planning permission gained?
Provided no neighbour objected at the time, a surprising amount of buildings and extensions go up in Croatia, without the benefit of planning permission. Usually no one says anything, but as a foreigner you will need to produce correct documentation for the Foreign Ministry permission.
Also, you should obtain a full Land and Property survey.
The purchasing method
The key decision is whether to buy as a private individual or as Croatian Company. Obtain the best advice available for this decision. (Read our article "Choosing the purchase method" for more detailed information).
Permission
As a foreigner you have to apply for a permission to own. For Brits and most EU countries this is automatic. However, the time for this to arrive depends on the purchase method: 8-12 weeks with a company, 12-30 months privately.
Ensure that your solicitor puts a clause in the contract saying that if you do not get permission you can sell the property (possibly to your own company) and keep the money received. Satisfy yourself that the solicitor has sent your application promptly - you could ask to see proof of posting. Any delay may suggest problems.
Tax
When you are the legal owner you will pay 5% Real Estate Transfer Tax. For properties built after 31/12/97 then VAT is payable, but is usually quoted in the total sales price.