The free aquarium includes a large variety of river species and an amusing reconstruction of a River Po underwater scene. There are 25 large and bright newly installed tanks, as well as a collection of some strikingly ugly water creatures.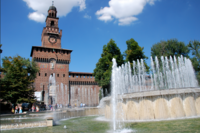 Deemed Milan's second main attraction after the Duomo cathedral, the Sforzesco Castle has 12 mini-museums and archives ranging from Palaeolithic history to 1950s furniture. It is where the noble Visconti family and the aristocratic Sforzas resided, from 1368 and in the 1450s respectively. The entrance is at the huge piazza d'Armi where gates lead into the Rocchetta and the Cortile (courtyard) which exhibits some interesting sculptures. The Renaissance-styled Palazzo della Corte Ducale is also there for all eyes to see, as well as the Civici Musei (Museum), but that charges €3 for entry.
Inaugurated in 1866, this is Milan's ancient cemetery in Art Nouveau/Liberty style. The whole complex surrounds the 'Temple of Fame' (Famedio), which serves as the resting place for the celebrated milanesi among other illustrious bodies, including poet Salvatore Quasimodo and Luca Beltrami (restorer of Castello Sforzesco). The most famous tomb is that of novelist Alessandro Manzoni, which lies right in the middle of the Famedio. It's arguably the world's most beautiful cemetery, so capture as many of its sculptures, mausoleums and monuments as possible.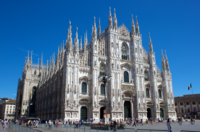 Located in Duomo Square and started in 1386, Milan's enormous cathedral is the third largest in Christendom and made from white marble, with countless spires and statues on its exterior.
You have to pay for the spectacular view of the city between the Gothic spires on the roof, but its free-to-enter interior is something special. Its 52 pillars correspond to the weeks of the year, displaying statues of saints which stretch up into the cross vaults of the ceiling. The stained glass windows depict scenes from both Biblical testaments and by the front entrance, a sundial on the floor is struck by a beam of sunlight coming from a hole in the opposite wall.
A Roman temple to the goddess Minerva once stood here and with such historic and spiritual significance to the country, this magnificent monument is a must-see.
If you want to see a majestic museum for free, this is the one. Fit for a king, it's no wonder Emperor Napoleon chose to live here in 1802. The recently restored neo-classical villa is also equipped with English-style grounds which add to its sense of nobility and greatness. The building's marble columns were set in 1790, and after unification it was passed on to the Italian royal family who gave it to the city of Milan in 1921. Now it's the Museo dell'Ottocento (Museum of the 19th Century), and occupies of 35 rooms displaying neo-classical, Romantic and Futurist works as well as art by the likes of Van Gogh and Picasso.
Time to relax. Sempione Park is a vast green space located behind the Sforzesco Castle and very popular among tourists and residents. At 116 acres, Milan's biggest green space is the ideal place to unwind with your partner or family after a few long hours of sightseeing. It's not plain by any means - features include a lake, the Arch of Peace (Arco della pace), a Roman-style sports' amphitheatre and a tower. If you're not tired at all, it's the perfect place for a pleasant stroll at any time of year.
7. Piazza del Duomo
The cultural and social heart of Milan. It's by far the grandest square in the city and hosts several of its most recognised sights, including the Galleria, the awesome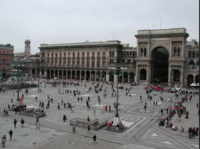 cathedral and the Royal Palace. But that's not all; the street is also decorated with lights and a magnificent statue of King Victor, lined with charming cafes, top quality restaurants and shops, and filled with people of all kinds. This combination makes it an appealing attraction and a cultural landmark.
A Basilica Martyrum built by Milan's patron saint, Bishop Ambrogio, between 379 and 386, this religious site contains the remains of local martyr-saints Gervasius and Protasius. The elegant Byzantine/Romanic church was nearly destroyed during the bombings of World War II, but several of its mosaics remain well preserved. As one of the most historic sites in Milan, this should definitely feature in your itinerary, and the 4th century mosaics of San Vittore in Ciel d'oro chapel in particular should not go amiss.
9. Ca' Granda (Università degli Studi di Milano)
Although it's currently home to the arts, history and law faculties of Milan university, Ca' Granda was originally a hospital and hospice. In 1456, Francesco Sforza wanted to unify all of Milan's 30 hospitals, and so he made one 'Casa Granda'. Another of its responsibilities was to protect the poor and sick, and to keep 'social embarrassments' away from public view. The building was created with one wing for men and another for women, and work on the hospital continued for many years until it reached a standstill at the fall of Ludovico il Moro. It then picked up again and in 1942 the hospital was moved to the suburbs. In 1958, the building was converted into the university faculty. Embrace its history and be sure to visit the delightful cloisters.
10. La Salumeria della Musica
The 'Delicatessen of Music' venue is proud to have featured among DownBeat magazine's list of the 100 best jazz clubs in the world. It also hosts literary and cultural events. Although this is a 'free' list and admission is free, you may want to dig into a platter of cheese and cold cuts or a refreshing glass of wine.
Milan is filled with exciting things to discover, and this list will give you an idea of the variety as well as offer a guideline of activities to follow. If you're travelling on a budget Milan is still very accessible as this article shows.