The School
The first step to maximising your language experience is to pick the best school for your needs. Malta is awash with language schools geared up to ensure the best possible experience for each one of their students. While that means that you will have no trouble in finding a school with a tailor-made experience for you, it also gives you plenty of reasons to carefully consider exactly what your needs are when choosing a school. Different schools may also have different accreditations, which gives a good indication of what you can expect from them. FELTOM, a local accreditation, is very common, whilst some schools such as Maltalingua have international accreditations like Eaquals.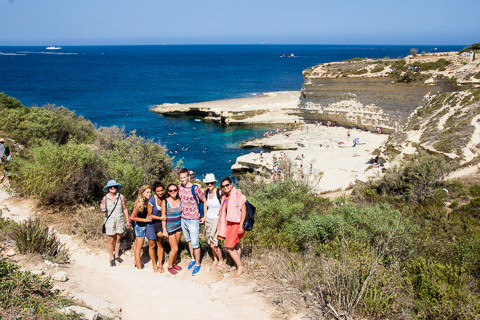 The Classroom
The bread and butter of any language experience is the classroom. This is where you will build a relationship with your teacher who will help you get to grips with new material as well as iron out the little mistakes and misconceptions you may have acquired over the years. Make sure to involve yourself in classroom discussions as often as they arise and ask your teacher for extra homework. They'll always be happy to oblige.
Your Accommodation
When it comes to selecting your accommodation, there are a variety of options available to you. Whilst many people will fall into the trap of picking a well-known international hotel (of which Malta has plenty), this is not as beneficial as choosing to stay in a shared apartment with other like-minded students or a host family.
Opting for a shared apartment will enable you to bring the classroom home with you, so to speak, and carry on discussing the day's lessons over dinner with your colleagues. Host families, on the other hand, will allow you plenty of exposure to the English language 24/7, enabling you to pick up phrases which you won't have covered in class, all while sharing a few laughs.
Out and About
Spend time with your colleagues from school and explore the local scenery while you're at it! Between the year round stellar weather and the variety of activities on offer, there is no need to bury yourself in your books. Make use of the activities many language schools inevitably offer and share new experiences with the new friends you've made. This will enable you to solidify the new phrases and vocabulary you will have picked up, whilst also creating friendships that can last a lifetime. Learning a second language doesn't have to be boring!
Get Lost in the Maltese Villages
If you're the adventurous sort, nothing beats visiting one of the many villages that dot the island and getting lost exploring on your own. The locals are fluent in the English language and well known for their friendly demeanour. Ask the locals for directions and tips about the best places to eat. Have a chat with villagers enjoying their lunches at the village pubs and immerse yourself in the culture whilst practicing all that you've learnt.