This enthusiasm for the Dutch way of getting about has even spawned its own genre of online videos that show the sheer volume of Dutch cycling traffic passing through the streets. These also showcase all the things people manage to carry around on their bikes, from multiple children to large musical instruments and even items of furniture.
Infrastructure
The bicycle has held a central place in the Dutch urban landscape for some time. From the early twentieth century, the flat terrain made it a perfect mode of transport for delivery men and people commuting to work and school. However, the extensive cycling infrastructure we see today was not created until the 1970s. That decade saw a series of campaigns to reduce the rising numbers of traffic casualties (particularly among children) that followed after the car became an affordable mode of transport for the masses. Such campaigns led to a style of urban planning in which bicycles were given their own clearly demarcated space on all busy roads; in some areas this space was even separated completely from the routes for motorized traffic.
Big-city biking
Of course there were some places, such as Amsterdam, where the historic street plan made it impossible to accommodate this kind of infrastructure, so cycling in these areas is very different to cycling in the average provincial town. An added factor in city cycling is the reputation and behaviour of big-city cyclists: Amsterdam cyclists are well-known for their disregard of traffic laws, and anyone who has cycled through the centre of Utrecht during the morning rush hour knows that getting in the way of a two-wheeled commuter is no laughing matter. Also note the scruffy appearance of many of the bikes you'll see in these places: with high rates of bike theft, the idea is that a shiny, new-looking model is just asking for trouble.
The rise of the bakfiets
Of course these particular features make certain things, such as cycling with young children, more hazardous. And perhaps this is one reason for the rise of one relatively recent new arrival in the Dutch urban biking landscape: the bakfiets. Adapted from the kind of cargo-bicycle errand boys used to ride at the beginning of the previous century, this is the people-carrier of the cycling world, allowing parents to carry up to four children at a time. This is a much less nerve-wracking experience than having to keep an eye on kids on their separate bicycles. On the other hand these velocipedic battleships – pricy and desirable as they are – have also become a status symbol and socio-economic marker of sorts, associated with fashionable middle-class urban neighbourhoods. Yet despite the rise of the bakfiets, Dutch children are still expected to learn how to ride their own bicycle when they are about four. And, in the final years of primary school, they have to take a traffic exam, which tests their traffic awareness and knowledge of the rules. This makes sense when you consider that the vast majority of secondary school pupils cycle to school, some of them over relatively long distances.
The cycling way of life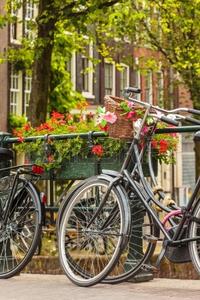 In short, the bicycle is absolutely ingrained in Dutch daily life and in its urban landscape. It has helped shape this landscape, some would argue for the better. It has resulted in an urban fabric that is not built around the assumption that everyone has a car: instead of just having huge megastores and strip malls on their periphery, Dutch cities still have a relatively high number of medium-sized supermarkets within easy cycling distance. For the Dutch, however, none of this is particularly special or noteworthy. A bicycle is, above all, a utilitarian object and a fact of life. On the other hand, the Dutch language does have one rather romantic designation for this trusty form of transport, which is 'stalen ros', or 'steel steed'. One thing is for sure: these noble yet humble machines aren't going to disappear from the streets any time soon.
This article was submitted by UvA Talen , the independent language centre of the University of Amsterdam.