Sights and attractions
Krakow is fortunate to be one of the few big places in Poland to escape nearly unscathed from the bombs of World War Two.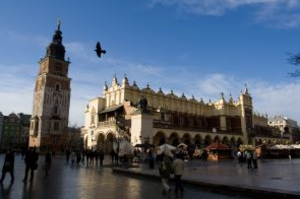 As such, it retains a great deal of history that the rest of Poland sadly lost. The historic centre of the Old Town revolves around the focal point of the Main Market Square, which makes perfect sense given both its great location and striking beauty. The most prominent building here is the recently renovated Cloth Hall. Originally a huge commercial centre for the trading of metal and cloth, nowadays the ground floor plays host to a huge array of stalls offering mostly tourist trinkets. This market is sandwiched between an enormous underground archaeological museum below and a gallery offering an impressive collection of 19th century Polish art above. All of this combined makes it three stories of sightseeing gold.
If you want something a bit quirky, every September the market square is invaded by an army of dressed up Daschunds for Krakow's annual Sausage Dog Parade. Witness the bizarre spectacle of these pets wearing anything from spaceman to Mexican sombrero costumes as they strut their stuff, hoping to be crowned the best dressed dog.
Another gem of the square is the 14th century St. Mary's Basilica, with its incredible stained glass windows and hourly bugle calls. These calls hark back to the warnings that rang out during the Tartar invasion in 1241. The best way to see the Old Town is to take a walking tour, an abundance of which are on offer, with many being free. All that's expected is a tip to the guide at the end.
Wawel
Overlooking the Old Town from atop a hill is the amazingly picturesque Wawel. This is comprised of a riverside castle and cathedral, both of remarkable beauty. The cathedral is of special significance to Polish people, both the site of Royal coronations and burials. Inside they play host to one of the world's largest collections of Flemish tapestries along with other diverse art and military exhibitions. Alongside this is the Den of the Wawel Dragon, whose legend is said to have given Krakow its name. There are limited tickets available for all attractions within Wawel, and as such it is recommended to arrive early if possible.
Kazimierz
After you have explored the Old Town, Kazimierz definitely warrants a visit. The old Jewish quarter is steeped in history, although not all of it happy. Famous sights include Oskar Schindler's enamel factory, made famous by the film Schindler's List. This is where the Czech factory owner managed to save 1,200 Jews from the horrors of the holocaust concentration camps.
Every year around the end of June, Kazimierz is host to the Jewish Culture Festival. The event lasts just over a week and ushers in a vast array of omnipresent cultural activities, including art, theatre, music and dancing.
Despite its central location, the Botanic Garden of Jagiellonian University provides a great opportunity to escape from the bustle of the city. As of yet it hasn't become a real tourist hot spot, so you can relax and enjoy some peace and quiet as you stroll around this incredible garden. It offers a diverse and impressive range of plant life for next to no entry fee, making it a great opportunity to do something different whilst in Krakow.
Food and restaurants
Although Krakow, and indeed Poland in general, has become somewhat Europeanised over the last two decades, one great enclave that remains from the communist era is the milk bar. These were originally set up under communist leaders to help feed the masses and make use of Poland's excess dairy products.
Although many have since closed, the ones that remain offer a truly Polish experience of traditional food at unimaginably cheap prices. Communication can be an issue here, and it's best to learn at least a couple of basic restaurant phrases so as to ensure you don't go hungry. A slightly more tourist-friendly option is Milkbar Tomasza, which attempts to bridge the gap between the classic communist eatery and contemporary tourist expectations.
Pubs and bars
Step into the enchanting world of Alchemia, a dimly lit wood paneled tavern recommended by locals for its cheap drinks and great live music. Its variety of rooms can have you walking through a wardrobe to sip hot chocolate on a bed, or kicking back to some live jazz with a delicious local beer.
Another good choice slightly outside the mainstream is Singer bar, which somehow manages to mix drinking and sewing machines. Whilst you won't actually be able to do any stitching, all tables come equipped with an old school Singer sewing machine. This novelty works perfectly with the period decor and candle lit ambience. The true surprise comes with quite how much of a party spot Singers is; a great selection of flavoured vodkas has people dancing on tables past 4am, even on weekdays! It can be a challenge to find this gem though, as it is tucked away in the Jewish Quarter with only a sticker of a sewing machine on the door to identify it.
Getting there
The main airport, John Paul II International, is found about 14km to the west of the city centre and is served by a large variety of both domestic and international airlines. Getting between here and the city centre is a reasonably straightforward process, and a variety of public and private transport options are available. Of these, train is the fastest. More information on the transport options to and from the airport , including prices and timetables, is available in English online.
The main bus and train stations are located right next to each other, and just to the northeast of the Old Town. They offer a cheap and easy way to get to many other Polish cities, and even have connections to international destinations as far flung as Rome.