We were unsure about property on the coast, being concerned about the bad reputation for too much development and too many Brits. However, we didn't want to let second hand information determine our decision so we "did" the south coast in May 2002.
Before we went out we did lots of research on the Internet, printing out reams of information. We spent 10 days on the south west coast and then headed south east to the Murcia region where we'd heard that prices were still very good and that it wasn't overdeveloped.
When we arrived in the region we were struck by quite how mountainous it was; there was almost a lunarscape.

We'd decided upon 3 houses we wanted to view from one particular estate agent. The cave house was the first house we wanted to see and the last one the estate agent wanted to show us. They were much more interested in showing us pig farms in the barren valley – the house we wanted to see was up in the mountains. They showed us the house at about 5pm, on a very hot May day.
We knew straight away that we wanted it.
We'd seen about 50 houses by that stage, all along the coast, all at different stages of repair. There were only 2 others that we liked. But as soon as we saw this house, we just looked at each other and tried to contain our excitement.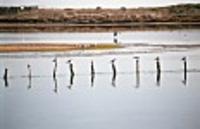 The location was just perfect – it's just in the foothills of mountains taller than Snowdon, 20 minutes from the airport, with a new airport being built close by too. And only 30 minutes from the nearest sea, the Mar Menor, Spain's inland lagoon. In fact we have approx 250 miles of beach to choose from, the furthest drive being 1 hour.
We got rid of the estate agents and then went back on our own and had another look. It seemed to us that the estate agents were quite deliberate in their attempts to confuse us about the exact locations of the properties, taking scenic and convoluted routes. We, however, were prepared. We had a GPS with us and had "located" every property, making a return, unaccompanied visit very easy.
Marcus can speak Spanish, so we returned when we thought the neighbours would be around. The property is one of 3 small houses, two of which are cave houses, set 1km outside a small village of 99 inhabitants. The neighbours don't actually live in their properties, they live in the village, these houses are for managing the land.
We chatted to the neighbour David (in his 70's, he was sent to France when Franco was in power, and has strong views on "capitalistas"!) and he showed us the exact boundaries of the land – something the estate agent had been unable to do. As we walked around the land – all 6.5 acres of it – our love affair with it grew even more.
Finding The Cash
The next day we got all our credit cards, bank cards and what cash we had. Raided all the bank machines and got together the deposit of 20% – approx £4,000.
We made the offer and paid the deposit, signed a few documents and went back to England. That part took about ½ an hour. Then in June we got a call to say all the paperwork was ready and they wanted the rest of the money!
This final phase took about 1 day in total, mostly waiting about in the abogada (solicitor) and notario (notary) offices. Finally a trip to the bank to pick up ½ the remaining fee in cash and a cheque for the rest – £8,000 in cash was a little worrying, as we had to walk through the largish town with it in a brown envelope.
Then the "deal" done in the notary's office, with the whole of the Spanish family present. There was a lot of hugging and kissing – with the Mother (Josefa) who was the main vendor, and her 3 daughters and 2 sons, who all had to sign to agree to the sale.
The reason a percentage of the sale is conducted in cash is so that you pay less tax on the sale. Though it's not "legal" it's the usual thing, the notary turns his back when you hand over the envelope!
Here's what we bought for £20,000 – the estate agent's spiel, in full:
"Approx 20,000 m2 land (permitted to build) part hillside part flat, planted with almonds, carob and olives, also large shed/warehouse with 3 caves at rear, mains electricity possible, set in the foothills of the Sierra de Carrascoy, nice views, 2km to small pretty village, 5km to town, access fair/good."
As it's a cave house, with a small house attached to the front of 3 caves, it's not the usual renovation project! We've had a number of builders and architects, all with different ideas of what we should do. We've decided to build a second property, which will be complete in August 2005, and then we will move to Spain, live in this second property while we manage the cave renovation project.
We have identified some specialist cave builders in Granada (about 300 miles away), who we will employ from September onwards to renovate the caves, with the plan to move into the cave house in January 2006.
Challenges
The most challenging things are electricity, water and Internet connection. So not much to worry about!
Electricity is an issue because we are 1km outside the village – the mayor has promised electricity for the last 3 years. As we weren't residents he didn't feel too much enthusiasm for getting electricity to us – so we decided to become residents, and therefore voters! We became "resident" by getting our "empadronamiento". The mayor now seems a little more keen to help us. As the village only has 99+2 (us!) voters and 3 candidates for the next election, we feel sure electricity isn't too far away!
Water we have solved by building a large deposit – a usual solution in the countryside ( el campo).
Internet is proving a little more difficult – we may need to have radio telephone and satellite Internet connection.
We are able to "live" in the cave house at the moment, due to our inventive use of batteries and water tanks. We've installed a kind of shower, a water heater and use a generator to power up batteries for lighting.
The biggest challenge has always been the speed of getting things done. The joke about "mañana" is actually true. We're both very busy people and finding time to be in Spain as often as we need to be is a challenge.
So, Why Do It?
We are fitting in wonderfully with the local people. Marcus has great Spanish and that's helping hugely. We're members of the teleclub – the only bar in the village, and traditionally used by the old men to chat away the day and have a little drink!
Josefa, the lady we bought the house from still lives in the village and invites us in for snacks whenever she can.
Whenever we arrive we find little packages of gifts, ranging from honey from the hives on the hill next door, to olives hand picked from the trees on the neighbour's land.
We mainly fly from Birmingham with Mytravellite. Costs from Birmingham direct to Murcia average out at about £80 return. FlyBe are also flying direct to Murcia from Birmingham. We can also fly to Alicante or Almeria – which takes us about 1 hour extra driving time in Spain.
At the moment we go over about 8 times a year – at least 4 trips of 1 week each and then long weekends to manage the building work.
With Marcus' language skills we've managed to avoid lots of potential problems. We both go to the Brasshouse centre in Birmingham for lessons.
We also have loads of tapes and CDs – the best are those by Michel Thomas.
There's so much we love about this region – above all though we love the Murciaños – the locals. They were so welcoming when we made the effort to speak Spanish to them.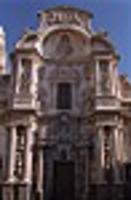 The city of Murcia itself is very attractive in the centre and a great place to relax. The protected coastline has some excellent beaches for summer, while the inland nature reserves in the mountains have an extensive system of trails for hiking and biking where you can walk for hours and not see another soul.
When we move over permanently, our approach is to have a portfolio of work. We're aiming to have that established before we move. Debbie's current business is either Internet based or face–to–face consultancy. Debbie has to travel for the face–to–face work anyway (we have 3 airports to choose from within an hour's drive from the finca) and we have broadband Internet installation as one of our pre–requisites for moving.
Marcus' work is currently from a home office in Birmingham with regular travel around Europe (Germany, France, Finland, Italy, etc.), so again, proximity to airports and Internet will enable the transition from UK to Spain.
As a visitor you have two choices, either do it the Spanish way or the Brits abroad way. Sadly the latter option exists on the coast in Puerto Mazarrón and the golf complexes – you can order pie and chips with a pint of lager. On the other hand, a little effort with the phrase book pays dividends. Take your rental car to Lorca, Murcia or the Sierra Espuña and you will really be able to immerse yourself in the Spanish culture, even if you are only there for a week or two. You can quickly get to places where you'll only hear Spanish and enjoy what they enjoy.
We expect to have a lot more variety in life and we expect it to be healthier. On a daily basis we will be walking to the village to get bread from the bakery and have a chat and a coffee in the bar. Working in our own home office rooms as we do now will, of course, be similar to the UK – but we enjoy what we do when we are at our desks anyway.
We know we'll have lots of friends and family visit us and the temptation is to spend loads of time taking people around to show them what a great place Murcia is. We will have to be disciplined in saying that we're working and point them in the right direction. Which is another reason why we wrote this book! The book will help anyone who visits quickly acclimatise and make the most of the region.
And of course our paying guests will have to come first!
Our Top 3 tips for anyone thinking of buying abroad:
1. Never trust those who are selling to you – always do your own homework – they may of course be wonderful, honest and true, but it doesn't hurt to be cautious!
2. It pays to be choosey – don't settle for the first place you see
3. Imagine what it will be like in all seasons – both for the weather and for yourself! Growing old in a foreign country can seem like a great idea, but is it really for you?

Have fun, we are!
This is an extract from A Brit's Scrapbook: Going Native In Murcia by Debbie Jenkins and Marcus Jenkins. It is a comprehensive guide to investing, holidaying and living in Murcia and the Costa Cálida.