These are some of the most typical dishes that you can't miss while being in Spain:
Paella - this rice-based dish is internationally known. Its origins lie in Valencia, where you can find many authentic variations of the dish. The most famous and common paella is a mixture of chicken, rabbit and vegetables or the one with seafood, such as calamari, prawns and clams. For the more adventurous foodies, you can also try the black rice, made with octopus ink.
Tortilla española - the famous omelette which you can find in almost every Spanish bar and restaurant. There are mixed opinions when it comes to whether the proper tortilla should include onion or not. Either way, you can't go wrong with such a simple and delicious recipe. You will often find it squeezed between bread to make a bocadillo (sandwich).
Gazpacho/Salmorejo - gazpacho is a thick soup made with tomato, cucumber, garlic, onion, pepper, vinegar and herbs, usually eaten as an appetizer. Salmorejo is a similar Andalusian version with pureed bread. Both of these are served cold, as a refreshing low-calorie drink which is especially popular in the hot months of summer.
Spain's famous bean stews - there is a wide variety of bean and legume combinations and each region has its own speciality. These bean stews are known as fabada, which consists in slowly cooking a mixture of beans and meats such as chorizo and black sausage. The most popular one in restaurants is probably the fabada asturiana. Another variation is the cocido madrileño with chickpeas, vegetables and a variety of meats.
If you have a sweet tooth, you won't be disappointed by the great selection Spanish cuisine has to offer: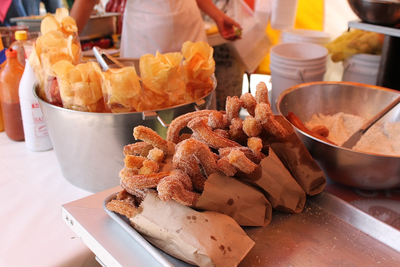 Churros con chocolate: these tubes of fried dough with delicious hot chocolate are the go-to sweet option if you are in Spain. You won't find better churros anywhere in the world. Usually, they're not on the dessert menu as Spanish people eat them for breakfast or as an afternoon snack (merienda).
Turrón is a nougat confection of Moorish origins and a traditional Christmas dessert. The original recipe contains almonds and honey but now you can find all sorts of variations with different flavours.
Crema Catalana is the Catalan version of crème brûlée. It has a burnt sugar crust on top and delicious creamy custard underneath. You can't go wrong with this dessert.
Polvorones comes from "polvo", which is dust in Spanish and refers to the texture this dessert has when you bite into it. It's a type of shortbread made of milk, sugar, flour and nuts. They are usually consumed at the end of the year, especially during the Christmas holidays.