1. Madrid
Madrid, just like any other capital, is a hectic and busy city. It is considered to be one of the cities with the best quality of life. For expats, Madrid is a great option as it offers numerous job opportunities, many leisure activities and a legendary nightlife. The whole city is very well connected and public transport is affordable, especially in comparison to other European capitals. Madrid's barrios (neighbourhoods) are diverse and provide a unique intercultural experience.
2. Barcelona
Barcelona is the second-largest city in Spain and again considered to have a very good quality of life. It has a very attractive landscape, with beautiful beaches and stunning mountains very close to each other. There are hundreds of expat communities in Barcelona. In fact, more than 300.000 foreigners live in Barcelona, representing 179 different nationalities. A downside of the city is that it's quite overcrowded and due to high demand, rent can be more expensive than in other cities.
3. Granada
Granada, nicknamed "Moorish jewel", is a city of stunning architectural beauty alongside a fascinating history, making it one of the most cherished treasures of Spain. Located in the southeastern part of the autonomous community of Andalucía, Granada is a significant pillar within Spain's culture. Granada's two World Heritage Sites, La Alhambra and the mazed streets of Albaicín, are precious charms that make the city so unique. It has all the amenities of a big developed city, without the chaos and hecticness of a metropolis. The community of expats is not that extensive, compared to other Mediterranean cities. It is also one of the most affordable cities to live in Spain.
4. Seville
Seville has a colourful history and a vibrant culture. The slow pace of life will soon make you think that there is no concept of time. The living expenses are very affordable, which is a big advantage, especially for families. Accommodation is relatively cheap, although do expect some houses to be in bad shape, as a lot of them have been passed on for generations and might need some renovation. Seville is perfect for a more traditional Spanish experience. Bear in mind that the city is only for those people that can take very high temperatures, as it is one of the hottest in Europe!
5. Valencia
Even if Valencia is one of the largest cities in Spain, it provides the feeling of being in a small town. The hectic rhythm of other big cities is not present here. A lot of people speak Valenciano, which is very similar to Catalan, but that is not a reason to worry since Castellano (Castillian) is still the official language. The city is very well connected when it comes to transport but thanks to lacking hills and perpetual sun, you'll soon notice that it's much better to walk everywhere. And if this doesn't take your fancy, just remember Valencia is the birthplace of paella!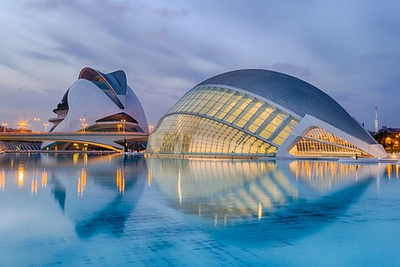 6. San Sebastián
San Sebastián is situated in the north of the Basque Country, on the southern shoreline of the Bay of Biscay. The encompassing Guipúzkoa region is full of beautiful green landscapes. The city itself is loaded with activities throughout the entire year, presenting a portion of Spain's most lovely seashores. San Sebastián is well connected by rail, street, air and sea. The weather is quite moderate, almost never too cold or too hot. The downside is that rain is more common in this area than in other parts of the peninsula. Foodies will appreciate a wide variety of street markets that offer some of the freshest fish tapas, better known as pintxos and other delicious dishes, such as fresh foie gras. In fact, San Sebastián has one of the highest densities of Michelin star restaurants in the world. San Sebastián's economy offers great potential, which is the most important point for many expats. The city's service industry represents 88.7% of its economic activity.