Finnish Lapland
Lapland is one of the highlights of Finland. It is home to Northern Europe's indigenous people - Sámi people - not to mention Santa Claus and reindeer.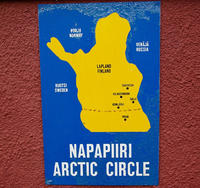 Only around 180 000 people live there all year round but during winter, it is a very popular tourist destination for people from all over the world.
The four distinct seasons
The climate in Lapland varies greatly throughout the year.
Summer
In summer, temperatures are mild to warm. Due to climate change, it is not uncommon for the weather to be warmer in Lapland than in Helsinki. For around a month in the middle of summer, the sun does not set, not even during the night.
Autumn
During autumn, the trees and ground are full of colour as the plants prepare for winter. This is a great time for hikes and cycling. Forests are full of berries and mushrooms ready to be picked and enjoyed, but don't eat something if you don't know what it is as some berries and mushrooms are poisonous. Check out this little guide to berry and mushroom picking to find out more.
Winter
Winter arrives at the end of October/start of November.
Temperatures drop below zero and snow covers everything in a pristine white blanket for around 6-7 months a year but, unfortunately, this is starting to change due to climate change .
The magical polar night creates an amazing display of colours that will take your breath away. This is an excellent time to see Aurora Borealis, aka, the Northern Lights.
Spring
Spring takes the snow away and prepares nature for a short but intensive growing period. Places get muddy and flooding is common in the south. This is probably the worst time to visit Lapland as everything is in an in-between stage.
Where to visit?
Lapland is pretty big; it covers one-third of Finland! So, where should you visit?
Cities
Rovaniemi is the biggest and most populated city in Lapland. This is also where you will find Santa Claus and the Arctic circle!
The second biggest city is Tornio . This is located in an area known as Sea Lapland (Merilappi). Here you can visit a working Ice-breaker ship and float in ice-covered Baltic sea during the winter.
In sharp contrast to the magical Santa Claus city, you may be surprised to find that nearly everything in Lapland's cites looks like it was built in the 60s and 70s. When Germany withdrew from Finland during WW2, they destroyed most of the infrastructure in Lapland (bridges, factories, houses, farms) so everything had to be re-built.
Nature
To see more nature, you should head to the north of Lapland. In the Urho Kekkonen national park, you will find the largest lake in Finland - Lake Inari - and Europe's northernmost holiday resort, Inari- Saariselkä . The park has an extensive hiking trail network which is not to be missed.
If you want a bit more action than quiet wilderness, you should head to the west. The area Länsikaira is home to Finland's three most famous ski resorts; Levi in Kittilä, Ylläs in Kolari and Pallas-Olos in Muonio. Levi is the biggest and most popular resort (the nightlife and after-ski parties are the best in Lapland), but Ylläs and Pallas-Olos have better skiing conditions.
In Käsivarsi, in the north-west of Lapland, the landscape changes drastically as the mountains start to get higher. Here, near Kilpisjärvi , you can visit the highest point in Finland, Halti, which measures around 1300m above sea level.
In the north-west you can also cross the border into Norway: Tromsø is less than 2 and a half hours away by car or 3 and a half hours by bus (the bus only runs in summer).
How to get there?
Lapland is easy to reach. Trains go from the south of Finland to Rovaniemi and up towards the north of of Lapland, stopping in Kolari. Buses continue further north and can take you as far as Norway and Russia. Bus and train schedules vary depending on the season. Travel times can also be affected by extreme conditions.
There are also direct international and national flights to Rovaniemi, Kittilä and Ivalo, as well as charter routes during the winter.
One of the most popular ways to see Lapland is by car. This way you can explore the unknown and stop wherever you want to.