Nine out of ten French home-owners have a multi-risk policy, but not all policies cover the same risks: for example, while over 90 per cent of policies cover water damage, fewer than 90 per cent include third-party liability, only around 75 per cent include theft, and just over half cover you for glass breakage.
All buildings under construction and major renovation or repair work on existing buildings must be covered by insurance for damages (assurance dommages) that guarantees the work for ten years after completion. It's the builder who is responsible for taking out this coverage, but during the first ten years of the building's life it passes automatically to a new owner and will pay for damage caused by faults in the original construction.
If you let your property or allow anyone to use it without payment, your insurance may not cover them, as French law considers the occupant to have custody over the property. Check with your insurer, who may be able to add the necessary cover for a nominal additional premium, e.g. e50 per year.
Building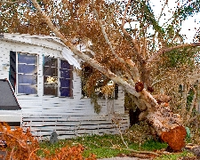 Although it isn't compulsory for owners, it's wise to take out building (bâtiment) insurance covering damage due to fire, water, explosion, storm, freezing, snow, theft, malicious damage, acts of terrorism and natural catastrophes, which are usually covered by a multi-risk policy (see above).
Note that in certain cases, claims for certain kinds of property damage aren't considered unless the government declares the situation a natural catastrophe or 'act of God', as has happened with floods in southern France in recent years, where many people found after the floods that their household insurance didn't cover them for water coming in from ground level, only for water seeping in through the roof. Read the small print and, if floods are one of your concerns, make sure that you're covered. It's particularly important to have insurance for storm damage in France, which can be severe in some areas. Note, however, that if you live in an area that's hit by a succession of natural disasters (such as floods), your household insurance may be cancelled. You may need to take out additional cover for catastrophes naturelles, which should cost only a small amount (e.g. €10 per year).
Note also that theft is covered only under certain conditions (e.g. that doors and windows were locked and that thieves had to break in to a property.) Property insurance is based on the cost of rebuilding your home and is increased each year in line with an industry-agreed inflation figure.
TIP: Make sure that you insure your property for the true cost of rebuilding.
Apartments
If you're a copropriétaire, building insurance is included in your service charges, although you should check exactly what's covered. You must, however, still be insured against third-party liability in the event that you cause damage to neighbouring apartments, e.g. through flooding or fire.
Rented Accommodation
If your accommodation is rented, your landlord will usually insist that you have third-party liability insurance. A lease requires you to insure against 'tenant's risks' (risques locatifs), including damage you may make to a rental property and to other properties if you live in an apartment, e.g. due to floods, fire or explosion. You can choose your own insurance company and aren't required to use one recommended by your landlord but your landlord is entitled to void your lease if you don't provide him with proof of adequate cover within the time specified (usually a month or two after moving in).
Contents
Contents (contenu) are usually insured for the same risks as a building (see above) and are insured for their replacement value. Items of high value must usually be itemised and photographs and documentation (e.g. a valuation) provided. When claiming for contents, you should produce the original bills if possible (always keep receipts for expensive items) and bear in mind that replacing imported items may be much more expensive than buying them abroad. Note that contents policies usually contain security clauses and if you don't adhere to them a claim won't be considered.
Holiday Homes
Premiums are generally higher for holiday homes (résidence secondaire) than for main residences (résidence principale) because of their vulnerability, particularly to burglaries, and are usually based on the number of days per year a property is inhabited and the interval between periods of occupancy. Cover for theft, storm, flood and malicious damage may be suspended when a property is left empty for more than three weeks at a time (or if there's no visible forced entry). It's possible to negotiate cover for periods of absence for a hefty surcharge, although valuable items are usually excluded. If you're absent from your property for long periods, e.g. more than 60 days per year, you may also be required to pay an excess (e.g. €500) on a claim arising from an occurrence that takes place during your absence (and theft may be excluded). You should read all small print in policies.
TIP: Where applicable, it's important to ensure that a policy specifies a holiday home and not a principal home.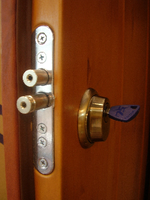 In areas with a high risk of theft (e.g. some parts of Paris and the Côte d'Azur), you may be required to fit extra locks (e.g. two locks on external doors, one of a deadlock type) and internal-locking shutters or security bars on windows. A policy may specify that all forms of protection on doors must be employed whenever a property is unoccupied for two or more days and after 22.00. Some companies may not insure holiday homes in high risk areas. It's unwise to leave valuable or irreplaceable items in a holiday home or a home that will be vacant for long periods. Some insurance companies will do their utmost to find a loophole which makes you negligent and relieves them of their liability. Always carefully check that the details (conditions particulières) listed on a policy are correct; otherwise, your policy could be void.
Insuring Abroad
It's possible and legal to take out building and contents insurance in another country for a property in France, although the policy is usually written under French law. The advantage is that you will have a policy you can understand and you will be able to handle claims in your own language. This is usually a good option for the owner of a holiday home in France, although it can be much more expensive than insuring with a French company, so it pays to compare premiums. While it may be more convenient to take out contents insurance abroad, you should be aware that this can lead to conflicts when the building is insured with a French company, e.g. in France door locks are part of the contents and in the UK they constitute part of the building. British buyers should note that insurance for a home abroad is offered by Harrison Beaumont Insurance Services ( 0870-121 7590, http://www.hbinsurance.co.uk ) or Intasure (0845-111 0680, http://www.intasure.com ).
Premiums
Premiums are usually based on the size of a property – either the habitable area in square metres or the number of rooms – rather than its value. Usually the sum insured (house and contents) is unlimited, provided the property doesn't exceed a certain size, e.g. 1,200m2 (12,900ft2), and is under a certain age, e.g. 200 years. However, some companies restrict home insurance to properties with a maximum number of rooms (e.g. seven) and/or a maximum value of contents. e.g. €50,000. The cost of multi-risk property insurance in a low risk area is around €120 to €150 per year for a property with one or two bedrooms, €180 to €240 for three or four bedrooms and around €240 to €275 for five or six bedrooms. Premiums are much higher in high-risk areas (especially Paris and the Côte d'Azur) and increase annually. If you have an index-linked policy, your cover is increased each year in line with inflation.
French and foreign insurers may not charge an excess (deductible) unless a property is left unoccupied for long periods (e.g. more than a week), in which case you may have to pay the first €200 or more of a claim. Note also that French insurance premiums include a tax of over 25 per cent.
Claims
If you wish to make a claim, you must usually inform your insurance company in writing (by registered letter) within two to five days of the incident or 24 hours in the case of theft. Thefts should also be reported to the local police within 24 hours, as the police statement (déclaration de vol/plainte), of which you receive a copy for your insurance company, is required when submitting your claim. Check whether you're covered for damage or thefts that occur while you're away from the property and are therefore unable to inform the insurance company immediately.
Cancellation
Like other French insurance policies, a household policy is automatically renewed annually unless you cancel (résilier) in writing, in which case you must normally give at least two months' notice (i.e. cancel at least two months before the end of your annual insurance period), although the notice period is sometimes only a month and in a few cases three months, so you should check.
There are certain circumstances in which you're entitled to a refund for the unexpired period of the insurance contract, including the following:
Changing your marital status (e.g. becoming divorced).
Changing your profession (if the change is relevant to your home ownership) or retiring.
If the insurance company increases your premiums by more than the official index (indice), based on the Index of Construction Costs published by INSEE.
If you cancel a policy for any other reason, you won't get a refund. Standard cancellation letters (lettre type de résiliation) are usually provided by insurance companies and brokers.
Third-party Liability Insurance
It's customary in France to have third-party liability insurance (assurance responsabilité civile, sometimes called responsabilité civile vie privée) for all members of a family. This covers you for damage done or caused by you, your children and even your pets, e.g. if your dog bites someone, although where damage is due to negligence, benefits may be reduced. Check whether insurance covers you against accidental damage to your home's fixtures and fittings. Third-party liability insurance is usually combined with household insurance (see above). The cost of third-party liability insurance when not included in household insurance is around €160 per year and you may need to pay an excess, e.g. the first €75 to €150 of a claim.
If you're self-employed or run a business, you must also have third-party liability insurance for 'managers' (assurance responsabilité civile chef d'entreprise), the cost of which depends on your line of work.
If you're letting a property, make sure that you're covered for third-party liability in respect of your tenants, as most home insurance policies exclude such 'commercial' liability.
This article is an extract from Buying a home in France. Click here to get a copy now.