On a well-run site, pitches (emplacement) are sheltered by trees and hedges and mobile homes have permanent patios as well as storage areas, where you can keep valuables while 'your' home is rented out to other users, as well as pitched roofs, porches and shutters to make them more like houses than caravans.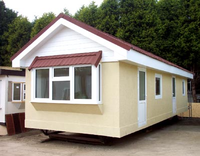 There are essentially two options when it comes to buying a mobile home: buy an existing home and take over the rental from the previous owner, or find a site which accepts mobile homes and install your own.
Finding a mobile home to buy in situ isn't easy, and you may need to go to your chosen area and ask whether any are for sale. On the other hand, finding sites that accept homes is simpler. The French magazine Camping & Caravaning (01 41 33 47 47, http://www.camping-caravaning.fr ) publishes an occasional supplement about mobile homes, Maisons, Mobiles et Chalets, which includes a list of sites that accept mobiles. Mobile home dealers will often help you to find a suitable site and arrange transport and installation, as well as purchase schemes allowing you to pay for a home in instalments even if they're based in another country. Specialist mobile home transport companies may also be able to recommend sites. Note, however, that many sites insist that you buy a home from a selected local dealer and that prices in France may be considerably higher than those in the UK, for example.
Some companies (e.g. Siblu Holidays, UK 0870-998 2288, http://www.siblu.com ) offer a 'turnkey' package, including a pitch on one of their own sites and a choice of new or second-hand homes; you may be able to bring in your own home (for a fee), provided it's of an approved design and style.
A new mobile home can cost €30,000 or more (twice as much for an all-singing-all-dancing model). If you're looking for a second-hand bargain, contact the major camping companies (e.g. Eurocamp) and ask about their annual sale of used homes; five- or six-year-old homes cost between around €6,000 and €18,000, and you can be sure that they've been well maintained. It's possible to find a used home for as little as €3,000 but it may be in poor repair.
Pitch rental rates vary between around €1,200 and €3,000 per year, although you may pay only a proportion of this if you allow your home to be let to other users when you aren't using it. Maintenance costs on a mobile home can be significantly lower than those on a 'proper' home, and your pitch is maintained for you by the camp-site owners. Although a mobile home normally depreciates more rapidly than a house, you can find that your property increases in value over the years.
As when buying a house or apartment, it pays to rent before buying, so spend a holiday in a mobile home on or near the site you're looking to buy into before making a final decision. Haven, for example, offer a free three-night 'inspection visit' in one of their homes.
This article is an extract from Buying a home in France. Click here to get a copy now.