More than likely, you will not get a great deal of rest on your overnight flight from the U.S.A. to Europe; and you will feel jet-lagged and a little grouchy. My recommendation is for you to drink a great deal of water on the plane; stretch your legs as many times as you can muster the nerve to crawl over the snoring gentleman next to you; and eat everything on your breakfast plate when it is served to you the next morning. A good breakfast is a necessity, even if you "never eat breakfast", and it will save you from feeling even more ill than you will more than likely already feel when deplaning. (The shuttle ride from the plane to the customs area is bumpy, stuffy, and often smelly. An empty, ill stomach will only cause a beginning to your France trip that no one wants to experience…or clean up, for that matter.) The more alert you are feeling, the better, because Charles de Gaulle Airport for beginners is no piece of cake, but…never fear, it can be done, and it can be done gracefully.
What to expect after deplaning
When you deplane, you will be directed immediately to a shuttle. Each time that I have boarded this shuttle, I have entered into a slight state of panic and wondered if it is really going to take me to my luggage. Do not worry! It is the right shuttle. Simply breathe deeply and calm down. The first thing you will experience is the Customs/Immigration area. On the plane, all of the non-French citizens will be given a form to state their purpose of visit, etc. You will simply hand this completed form to
the person behind the window and say as little as possible. Do not try to be cute or funny. While you are more than likely a hilarious person, and people revel in your humor, now is no time to try out your Jerry Seinfeld impression. The Frenchman will not find you funny, and it may cost you your entry into France. Be respectful, quiet, and polite. You're already a fabulous person, as you well know. Just tone it down one notch. If you present yourself with these qualities, getting through customs will be a cinch, and you will be off to gather your baggage and head out of the airport with a relieved smile on your face.
Baggage claim
The baggage claim experience is always a gamble. You may be the fortunate one and your luggage will come out quickly. You lucky duck! However, as the French say, souvent (pronounced sooh-vahnt, meaning often), luggage does not come out quickly. Flights from America to France are often filled to capacity, and there is a LOT of luggage. Unlike many airports, the luggage carts are free of charge and are usually just hanging around the luggage carousel waiting to be used. I have experienced a one hour wait for luggage before, and I have also experienced a 15-20 minute wait.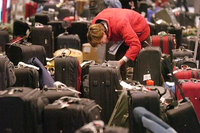 DO NOT PANIC if your luggage does not come out in fifteen minutes. Yes, it is maddening to watch Frenchman after Frenchman, happy American after happy American joyfully hoisting their bags off of the carousel. Yes, it does appear that your luggage is never going to come. Yes, for a split second, you may think that your luggage is floating somewhere in the Atlantic, creating a new sofa for seagulls. However, your luggage is coming. Do not make a scene. After you breathe and wait patiently, you will feel so relieved and content when your luggage finally does arrive in one piece (or with a few large rips and black oil splotches on it). If, heaven forbid, your luggage does not arrive, simply notify them at the appropriate window, and your luggage will eventually be located. Really.
After your luggage arrives and you blissfully stride through the corridors, make your way out the doors (there are signs), and either meet your ride, hail a taxi (expensive: très cher, pronounced tray cher, as in of Sonny &), or take the RER B to your destination.
The best advice during all of your airport experience and travel into the city, is relax, and know that you are about to enter the most beautiful city your eyes have ever beheld. The City of Light.
-----------------------------------
Amy Ellen Laws is a Southern belle from the Eastern Tennessee mountains who has studied abroad in Paris, France extensively, and lived among the Lébou of Yoff, a village of Dakar, Senegal in Western Africa. A speaker of both English and French, and a seasoned thespian, Amy has a love for all things dramatic and creative, and a fresh zest for the little things in life.