The true art of France
The origin of chocolate in France dates back to 1615, when King Louis XIII married Anne of Austria. With her to France she brought hot chocolate, making it almost 400 years since the delicious treat has been here. If you are interested in reading more on the history of chocolate in France, check out this link .
Going further than simply loving and making chocolate, the French invented the art of chocolate. Traditional French dark chocolate is unique. With a typical cocoa content of between 62 and 86 percent, it is the least sweetened chocolate in the world. It is also known that the French put less butter, cream and sugar into the creation of their chocolates, which is good news if you're on a diet!

Before and after
What does chocolate mean to the French?
Paris apparently hold the title as the 'Chocolate Capital', boasting over 300 chocolate shops - more than in any other city in the world.
The best and most famous artisan chocolatiers in France, such as Jean-Paul Hévin and Christian Constant , all have different origins (mainly Belgian, of course) but have become extremely popular here having adapted to the particular taste of the French. There are also many smaller, independent chocolatiers and regional brands, like my personal favourite, Vosin , in Lyon!
France's love for chocolate is so great that they have even founded the French Chocolate Association , where chocolate is appreciated, loved and respected by those who cherish it, work with it and want to explore it more. I could write about their relationship forever, but allow me to summarise in just a few points!
French croissant
Croissants were actually invented in 17th century Vienna, and were not brought to France until the next century, when Queen Marie Antoinette introduced the pastry to the French court. It was a huge success, but the original recipe which used bread dough has changed a lot over the years, and it was actually a Parisian baker from the
20th century who created the croissant we eat and love today.
If you're feeling tempted by now, why not try out this recipe and make a few for yourself!
Similar to the croissant is the pan au chocolate. Also known as the chocolatine, it is a viennoiserie sweet roll similar in texture to a puff pastry, but with dark chocolate in the centre of course! These are also a very popular breakfast choice in France, and if you are feeling more adventurous, try baking them as well ! And to help, here is an instructional video (in French).
Easter
Like at Christmas, chocolate is an essential part of the Easter holiday, with boxes of papilles, chocolate pralines and all kinds of other chocolates filling the shops - it can become quite difficult to choose what you want to try first!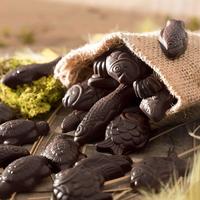 Fritures de Pâques
Credit: Les Jours Heureux
The true art of chocolate flourishes during this festive time, with many pâtisseries-chocolateries creating bunnies, bells, and "Fritures de Pâques" - fish-shaped chocolates to symbolise Christianity. For this, I believe France beats any other country in the world that celebrates Easter with chocolate eggs.
One of the most incredible yet bizarre Easter chocolates I have seen here are these impossibly delicate eggshells filled with chocolate. They're amazing. Other intricate creations include candy eggs in nests and chocolate eggs with hazelnut or pistachio creams. Wow I'm getting hungry here! Moving on…
I am in full favour of this tasty romance between the French and chocolate and I hope you now are as well! So remember, when in France don't miss out on tasting one of the many variations there is on offer. Bon appetite!
------------------------------------------------------------------------------------------------------------------
Article provided by Aga, a Polish expat in Lyon exploring and sharing her experiences with the world.