Taking form, Shaoxing is like a splurge of a 1980s revival play in waves of styles and fashions given birth in America, England and Japan so long before. A generation has passed and given a revival through this culture. Cultures manifest and people grow, this one taken flight economically, but not in the events of fashion, unless visiting towns like Beijing to the extreme north or Guangzhou, to the South or nearing Hong Kong.
With a flavour for beauty and history, it's a manifestation of more colours over the signs and over what people can wear or carry when they are shopping. The enjoyment or 'sports' that is tasted by the Chinese is to buy, splurge with food and go into the Internet or "QQ" to chat at all hours. Socialization time continues for the adults in the bars to 12 or 1 a.m., in a place that everybody is busy doing 'business'… All are doing business in foreign trade.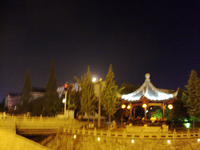 One wonders the reality in a country that has over a billion people! But for now, "Happy times are here again…" Have fun today and forget about tomorrow, even with the Global Financial Crisis. The skyline befalls around 6:30 p.m. It's the evening skyline. It goes into a spark of orange-colours lovely as it sounds it's amazing in all that is done. A natural element… The party is barely starting at 10 p.m. to maybe end at 12 a.m. or a little over.
But this is China in dire need of more partying or house parties… What has to be lived and enjoyed through the motion of life; and there is little time to waste. All must be done in one-single night, walk the lanes, go to bar, have a few beers and dance the evening way.
It's fun, I warn you and you have to be adventurous to every experience. Like coming to life, it does get better when you mind your business and do your own thing. To live once and go down the lane, and have a quick dance. Don't you know that an entire lifetime can be lived in one day!
For a moment one feels like easily walking through the streets, then all that changes, once noticing people of oriental-race and all signs are written in characters. Few are in English and at the same time, it's easy getting around this City. Yes, Shaoxing can be friendly, unless trying to cross the street and face off a crowd of people coming your way. What are Chinese!
Well there are many stereotypes, but also they can pass for any other form of Western beauty. Here is a City alive with colour and people. It may anger you, but also it may be a blessing… Everything is okay, once everything has been said, travelling the City is fun! Often there are few places for nightlife, only between "Bon Bon", "SOS" or "Jeep"-the latter titled after the admired Automaker. Only three for this amazing place and not to be easily burnt out!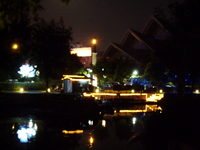 The Clubs are mostly for locals and some foreigners will come in to enjoy themselves. They are social gathering places. But not so important, for only those that really understand, the fun is only part of the game and conquest is the rest.
One dance with a beautiful woman can change a man's life. The softness of the Orient is calling. Usually these are the people that dance, manipulate them into the dance floor is another thing and after, know how to have a good time. The average Chinese is shy, remember this! So, a little of fineness and persuasion is required on behalf of the foreigner. Stay cool, calm and collected! Good advice from an old friend of mine called, Gino. Play it patiently. Remember, you are still in a foreign country. The greater part is the experience. The fun of it all, what is important is that you get out and dance, even when making a fool of yourself!
The night is even better, as the City comes out alive, in full view. The party has started for those that go night wondering. Lights are all over the ponds and canals. They are blue, green and red. There is also music, Chinese classical amongst the harvest of people. There is poetry in the air. The smell of flowers and heat, characters are in full view, stopping you to see what you are doing through the crisscrossing of Shaoxing's 10,000 bridges. The intensity of photographic shots is important, as it is equally important to stay steady to capture all the beauty of this mysterious center. Chinese come out in full swing to walk, sing, play and dance. After all, it's Saturday, tomorrow Sunday it's their day off, their only for many.
Daytime is for more cultural activities, facing the City with an appetite for learning. Old as the oldest civilization, it's a moment to live in love with something that was made before most Western civilizations were formed. Going up the greenery is to find the ancient paths and below is the City moving along, while daylight gives these areas a sparkle of brightness over the Yin Tian Tower and Temple of Pure Coolness. The height is superior to any, over the entire City. It is greatest at the hand. Over seven stories high and for only 2 Yuan, less than $0.20 USD, the fun is here. Amongst spectacular gardens of lustful beauty is the uniqueness of life in ways not seen before and awesomely conserved.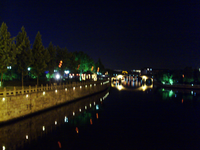 From any of the main terminals, it's easier to go down Jielang Beilu. Best route to take is with the number K011 bus. The service will leave you right in front of the Monument and only two blocks away from "Bon Bon", just in case you may feel thirsty afterward. Beers go for 10 Yuan, your local brands. Sadly, a "Guinness" will take a little more, over 30 Yuan, but in any country outside of Ireland, worth the price!
For this adventure around Shaoxing is to enjoy the City's culture and history. For the diversion, well, the local pub or dance hall. And in this series I am teaching others how to dance… For those that are from Shaoxing, so for my friends, socialization can be easier around this beautiful town. Enjoy yourselves.
By Daniel Otero
Company: TEFL, Zhuji, China
Telephone: 001-787-424-0153
E-Mail: